Bluehost web hosting is offered in 4 plans and you get a choice over your needs and budget.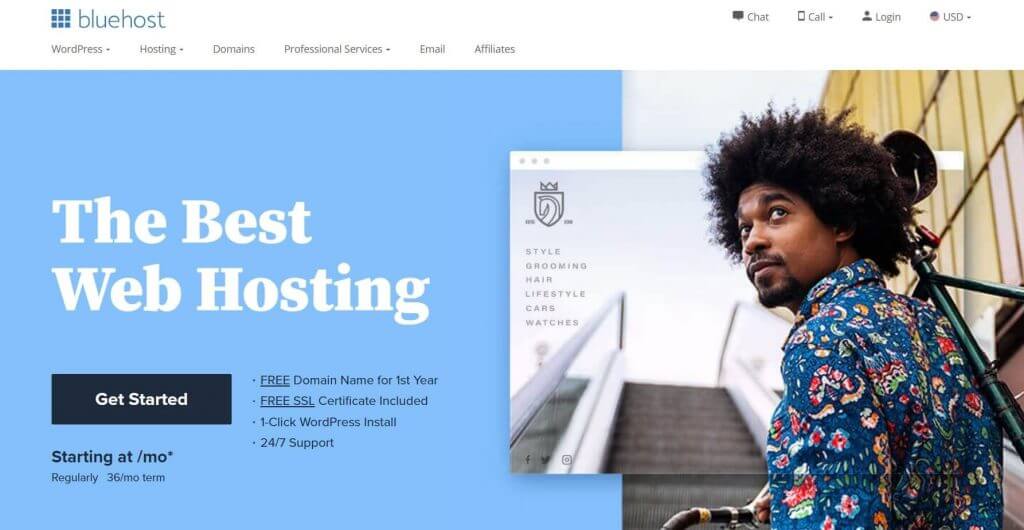 An officially recommended web hosting by WordPress. Its prices ranging from $3.95/mo to $13.95/mo for shared hosting. SSD storage, cPanel, and 24/7 customer support are the things that are offered in a hosting package.
Bluehost offers some common features across all the plans, such as free domain registration for the first year, free SSL certificate, and CDN. Before we get into the plan-wise features with their respective shared packages, here is the full price list of the Bluehost web hosting:
| | | |
| --- | --- | --- |
| Bluehost Plans | Introductory Price | Renewal Price |
| Basic | $3.95 | $8.99 |
| Plus | $5.95 | $11.99 |
| Choice Plus | $6.95 | $16.99 |
| Pro | $13.95 | $26.99 |
*All prices are taken from the official website.
Main Key Features & Hosting Overview
| | |
| --- | --- |
| Uptime Claim: | 99.9% |
| Free Domain: | Yes |
| Website Transfer: | Yes |
| Control Panel: | cPanel |
| Free SSL: | Yes |
| Moneyback Guarantee: | 30 Days |
| Plans Names: | Basic, Plus, Choice Plus, & Pro |
| Support: | 24/7 |
| Pricing: | Starting at $3.95 per month (renews at $8.99/mo) |
| Promo Code: | 70% OFF ($2.65/month) |
Now, let's go through each plan to see which one offers the best value for money.
Bluehost Basic Plan: If restricted to budget under $4/mo
Price: $3.95/mo
Single website hosting, 50GB storage, custom themes.
Verdict: As the entry-level plan of the Bluehost, the Basic plan doesn't offer much in terms of features. But if you're stretching your budget for WordPress optimized hosting instead of a premium host, it is worth considering. In fact, it is the most affordable WordPress hosting offering as of now, with introductory prices. We'd recommend this plan if you have just a single site with a meager visitor count or if you get starting.
Bluehost Plus Plan: Unlimited hosting but at a price jump
Price: $5.95/mo
(Features over Basic plan)
Unlimited websites hosting with unlimited SSD storage and free Office 365 for 30 days.
Verdict: This one comes at a significant price hike over the entry-level plan, but it offers more comforts, especially unlimited space and multiple domains hosting. Keep in mind, Bluehost hosting is not unlimited, but there are some restrictions behind the word "Unlimited." For example, unlimited storage means you are restricted to the number of files uploaded to your account. It may be 400k or 600k files. However, there is no bar on storage shown in your cPanel.
Bluehost Choice Plus Plan: The one we'd recommend with sufficient comforts with the security pack
Price: $6.95/mo
(Features over Plus plan)
Free domain privacy and free automated backup for 1 year.
Verdict: A step below the top plan, The Bluehost Choice plus offers website security. It adds protection for your free registered domain name and, most importantly, the automated website backup – Powered by CodeGuard. Your hard work is important, and that should back it up in case of mishappening. However, it is free for the first year of hosting. For the second year or further, Bluehost will renew it separately. You can store your website's previous version with is CodeGuard backup option.
Bluehost Pro Plan: The complete package if your budget allows
Price: $13.95/mo
(Features over Plus plan)
Optimized CPU resources and free dedicated IP address.
Verdict: In terms of SEO features, the Pro is a top-specs plan with all the bells and whistles. Google loves fast site reloading. It is the complete package and the one we'd recommend if your budget allows it. In addition to CPU resources makes it better for websites with higher traffic or more complex use-cases, Bluehost's Pro Shared Hosting plan offers an Optimized CPU to provide more speed and processing power. Dedicated IP makes your website identity unique over the web.
Disclosure
When you buy through affiliate links on our site, we may earn an affiliate commission, at no cost to you.