One of the eco-friendly web hosting services, putting back 3 times the power they consume into the grid in the form of renewable energy. They fully utilize wind energy. GreenGeks offers web hosting and domain registration services to small-to-medium-sized businesses. The best part is that our InsideHost users can get an exclusive GreenGeeks Coupon to save up to 76% off website hosting plans. That means you can get GreenGeeks web hosting for just $2.95 per month rather than $11.95 per month for your first year. You also get a free domain name and a free SSL certificate. All you have to do is click the link below to claim this GreenGeeks discount coupon.
GreenGeeks Promo Code
How to Use GreenGeeks Promo Code?
InsideHost's exclusive coupon code gets you up to 75% off greengeeks's popular shared & WordPress hosting. You also get a free domain name and a free SSL certificate. All you have to do is follow the instructions below to properly redeem the coupon code. That way, you can get the maximum discount on GreenGeeks web hosting.
The first thing you need to do is visit the GreenGeeks website through our link. You will see a message that says, "Exclusive Offer for Fans of InsideHost"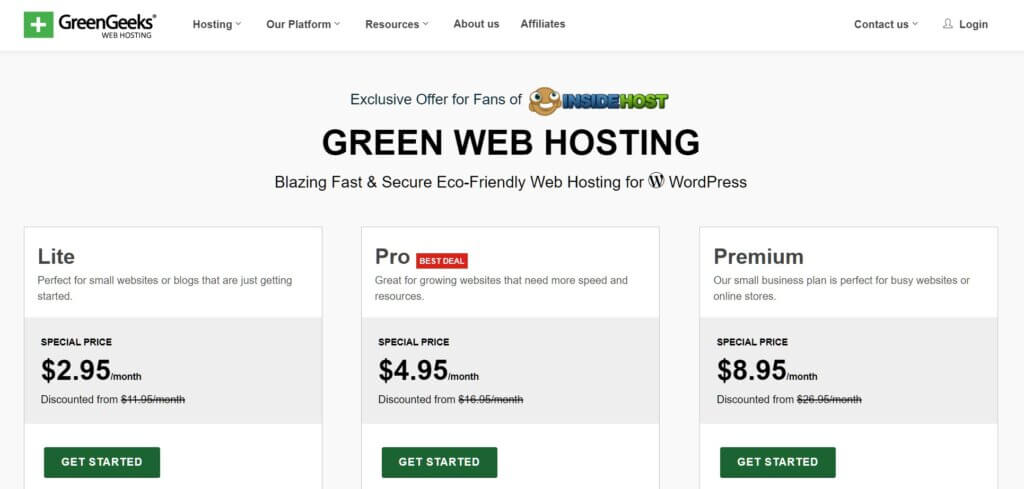 First, you'll need to select your web hosting plan: Lite, Pro, or Premium.
Note: There are no promo codes needed. As long as you visit GreenGeeks.com using the InsideHost link, the exclusive up to 75% off GreenGeeks offer + free domain + free SSL certificate will be auto-applied.
The Lite plan gives you a special price of $2.95/mo price instead of $11.95 and is great for getting started with creating your first WordPress website or blog.
The Pro plan is handy if you plan to have 2 or more WordPress websites. We recommend the Pro plan as it has unlimited SSD storage, unmetered data transfer, and unlimited email accounts.
The Premium plan saves up to 75% and is built for unlimited websites with more storage space.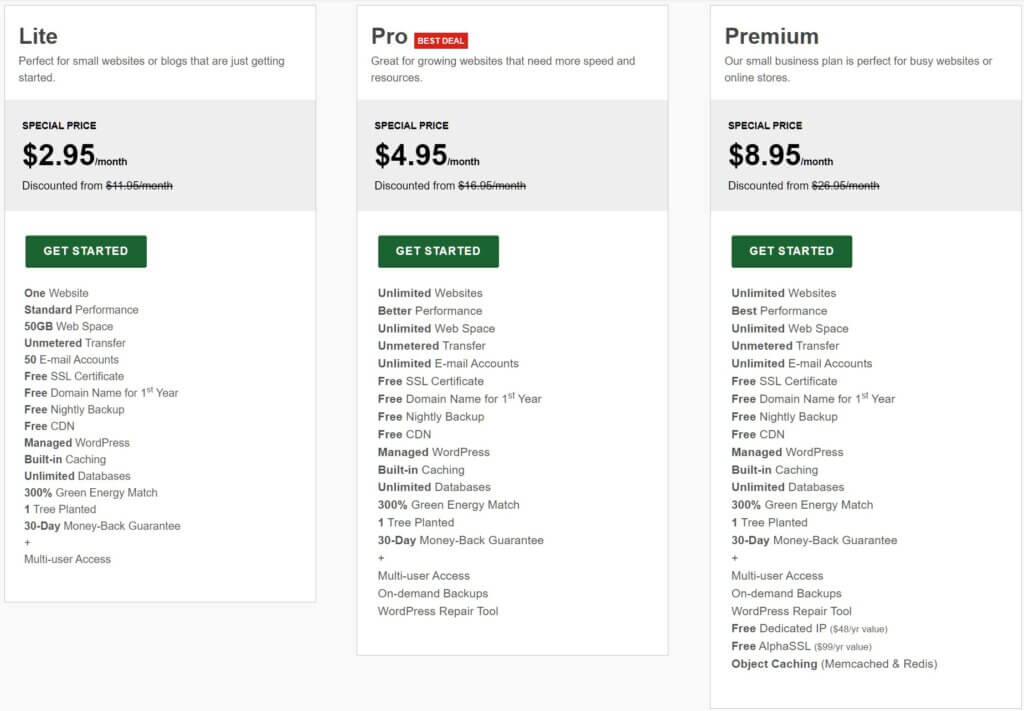 Go ahead and click on the green 'Get Started' button to apply the exclusive GreenGeeks deal and start the checkout process.
Click the 'Get Started' button on the plan you want to purchase.
Next, you'll be asked to set up your domain name (such as www.yoursite.com). InsideHost offers the best GreenGeeks deal, allowing you to get a free domain name for a full year.
Simply type in the domain name you want, and click 'Next' to see if it's available.

On the last page, you'll need to create your new GreenGeeks account.
You can sign up by entering your personal details below, including your first name, last name, country, and other information.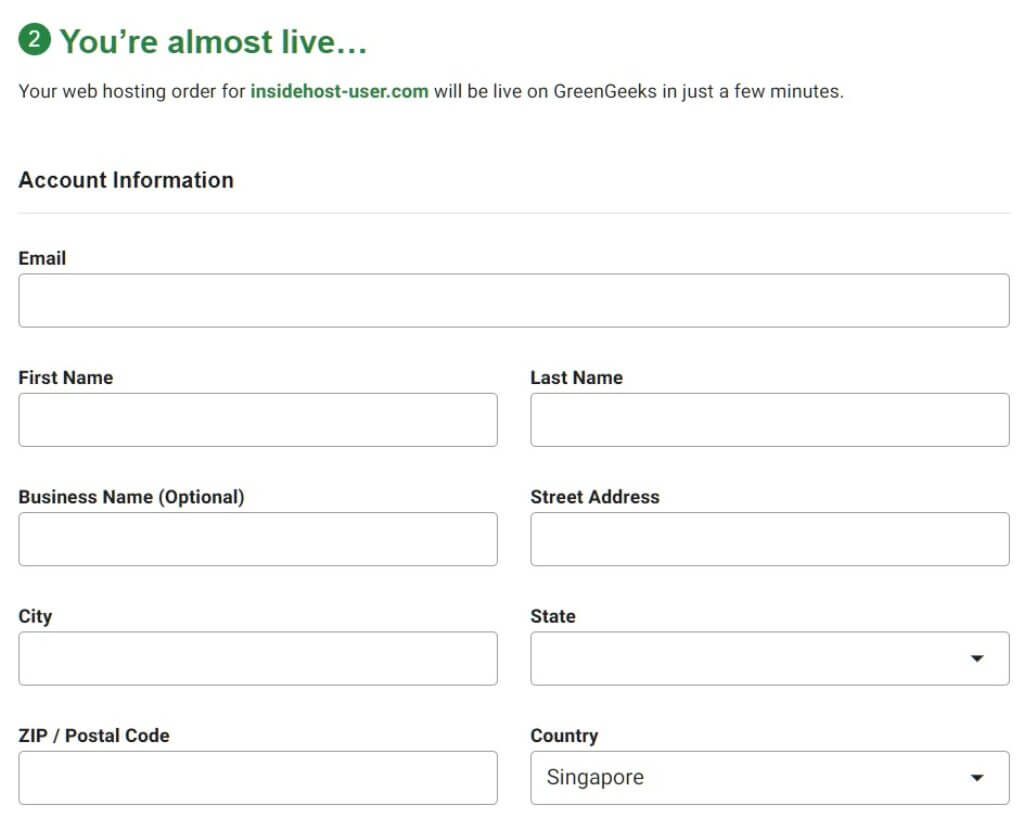 Under that, you can change the GreenGeeks plan's monthly payment term.
By default, it selects the Annual hosting package, which works out to $2.95/month (paid upfront).
You can change this to a (Trieneally 36-month term) that costs $11.95/month.
Below that you can choose the data center location that is nearest to you from – United States, Canada, Europe, or Singapore.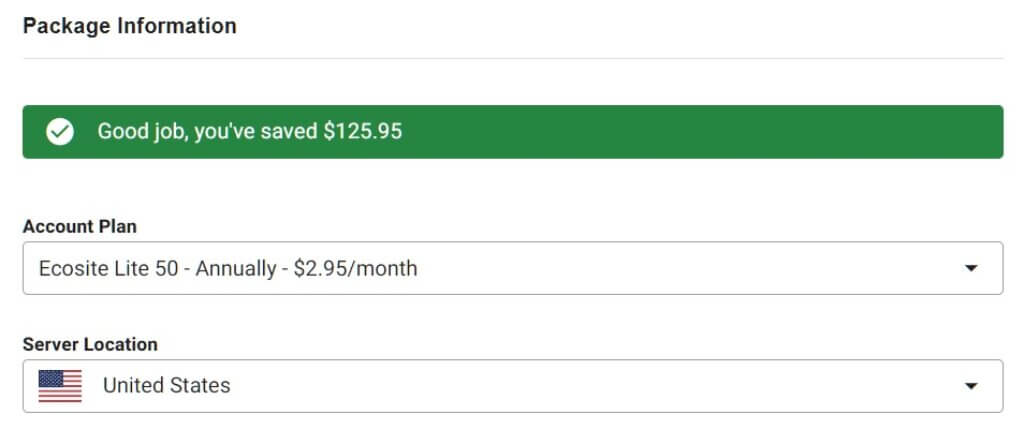 GreenGeeks hosting plans will automatically include recommended addons with your web hosting account.
You can turn these off if you want to, though we recommend keeping the domain privacy and SiteLock security.
You'll then see the total cost and your savings at the top of your screen on the right side. This is how you can be confident that the InsideHost discount code has been successfully applied.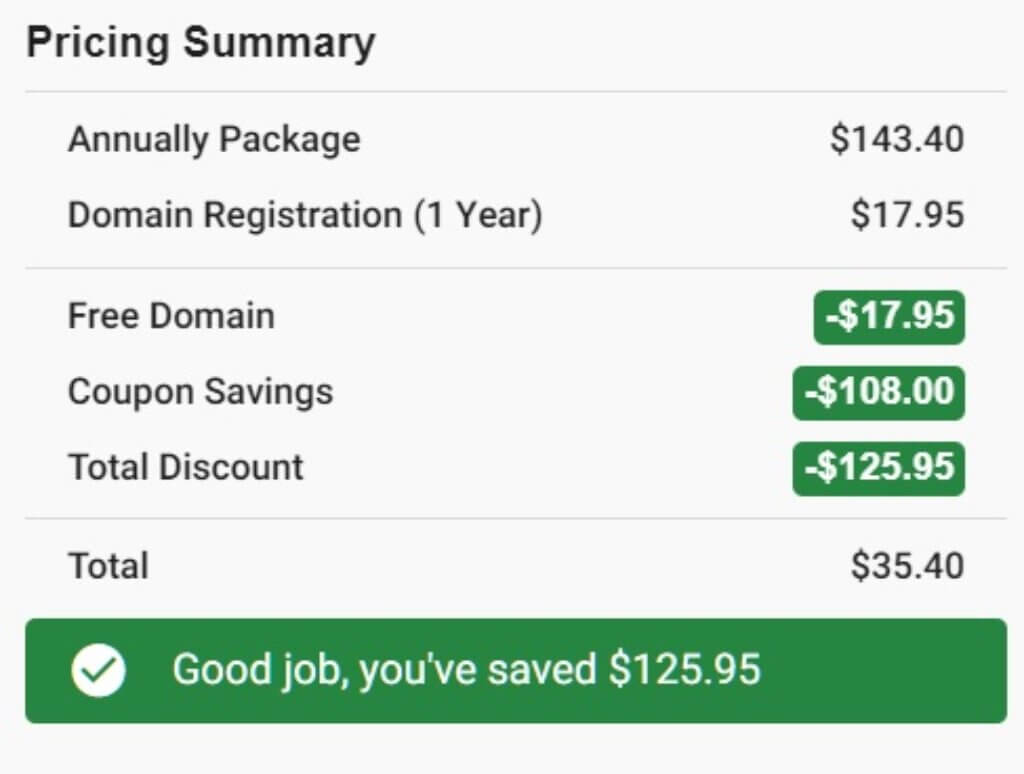 Lastly, enter your payment information at the bottom of the screen.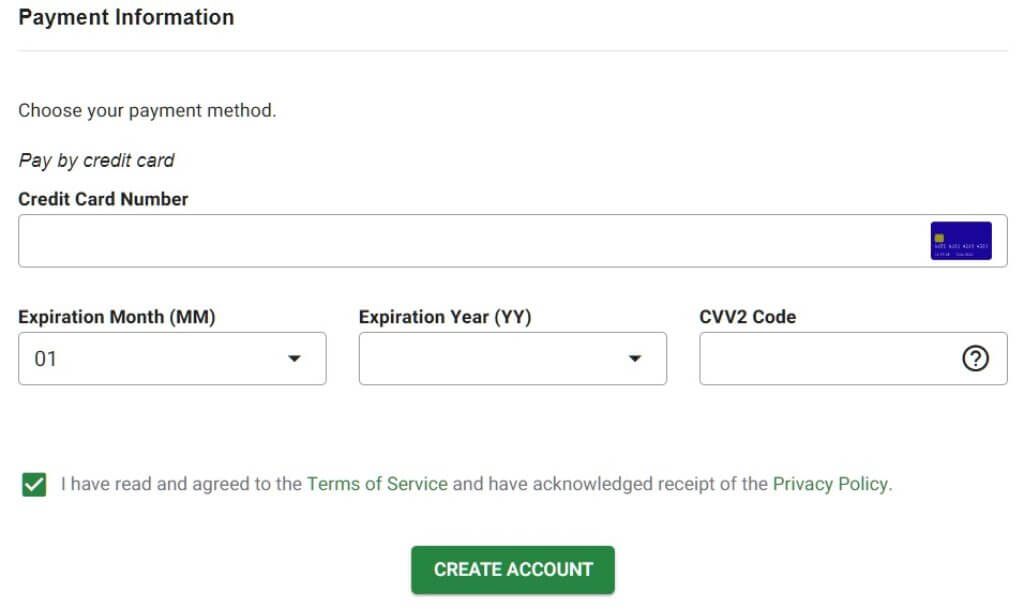 That's all. Go ahead and click the 'Create Account' button at the bottom of the page to complete your purchase.
GreenGeeks Promo Code FAQs
If you are still looking for more information, then here are some of the most frequently asked questions (FAQs) about the GreenGeeks discount code.
What is GreenGeeks, and what does GreenGeeks offer?
GreenGeeks is a web hosting company. They host your WordPress website for you and are accessible through the internet. With our exclusive GreenGeeks promo code, you can get high-quality web hosting at a fantastic price.
GreenGeeks offers up to 75% off its usual price for your first year. You even get a free domain name and a free SSL certificate with your hosting plan.
GreenGeeks uses cPanel, the most widely used web hosting control panel. This makes it easy to manage the WordPress website(s) you're hosting on GreenGeeks.
What plans can I use the GreenGeeks discount on?
Our GreenGeeks discount doesn't just work on shared hosting plans. You can also use it on their VPS hosting, dedicated servers hosting, and reseller hosting.
All you have to do is visit the respective pages to purchase the different types of web hosting plans based on your needs.
Does GreenGeeks have a money-back guarantee?
Yes! All purchases made using InsideHost's GreenGeeks promo code come with a 30-day money-back guarantee. You get a full refund with no questions asked.
You also get 24/7 support from GreenGeeks brilliant customer service team.
Keep in mind that domain registration, addons, and email accounts are not covered by this guarantee.
Does GreenGeeks offer a security solution?
GreenGeeks does not offer additional security software as an addon to your web hosting package. They use custom advanced security that keeps your websites secure with custom security rules & zero-day vulnerability fixes.
Does GreenGeeks offer discount coupons all the time?
The exclusive up to 75% discount coupon code for InsideHost users is a limited-time offer.
However, GreenGeeks also offers limited-time promo codes during the holiday season, like Black Friday and New Year.
Are there coupons to help me save at similar web hosting companies?
Yes! Other similar Hosting companies are Hostgator, HostPapa, and Hostinger.
Today's GreenGeeks Promo Code & Deals: 1st December 2023
| GreenGeeks Coupon Code | Regular Price | Deal Price | Service Type |
| --- | --- | --- | --- |
| 75% Off Web Hosting | $10.95 | $2.49 | Basic Shared Hosting |
| 75% Off WordPress Hosting | $10.95 | $2.49 | WordPress Hosting |
| 43% Off Reseller Plan | $19.95 | $19.95 | Reseller Hosting |
| $39.95 VPS Hosting | — | $39.95 | Managed VPS Hosting |
| 75% Off Website Builder | $10.95 | $2.49 | Website Builder |