The Best Web Hosting India
Looking for affordable web hosting in India? There are many good website hosting options here, whether you're looking to host a personal portfolio, run a WordPress blog site, run an enterprise business website, or finally, an online shopping eCommerce site.
We considered everything from each web hosting service to whether it provides enough storage, bandwidth, moneyback guarantee, good technical support, and whether they provide the best customer support. Here's an overview of the best cheap web hosting in the Indian market. Some recommendations are based primarily on our own experiences, with word-of-mouth impressions from others thrown in for good measure.
So what are you waiting for? Sign up for these top hosting sites, start making your website. We'll update this list of cheap web hosting periodically.
The best cheap web hosting India at a glance
Among these, Hostinger has the most popular cheap web hosting plan, price is under $1 or ₹69 for a month, while HostPapa ($2.95 or ₹99), NameCheap ($1.44), A2 Hosting ($3.92), GreenGeeks ($2.95) and Hostgator ($2.71) are also in this category. Hostinger is the best hosting company to get started online business or a blog in India. Apart from a low-cost web hosting plan, this host offers a free domain name and SSL certificate for one year within a hosting plan.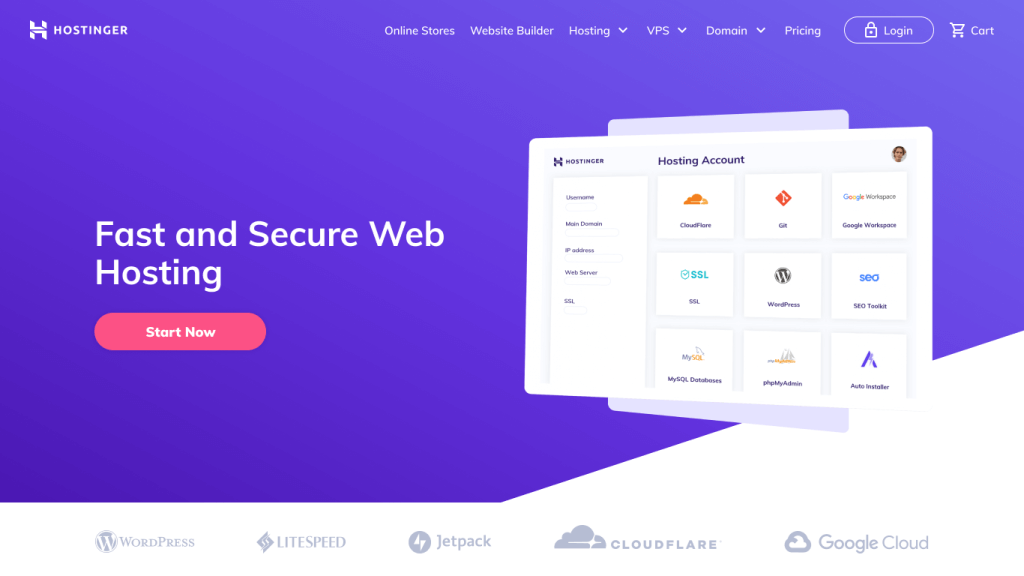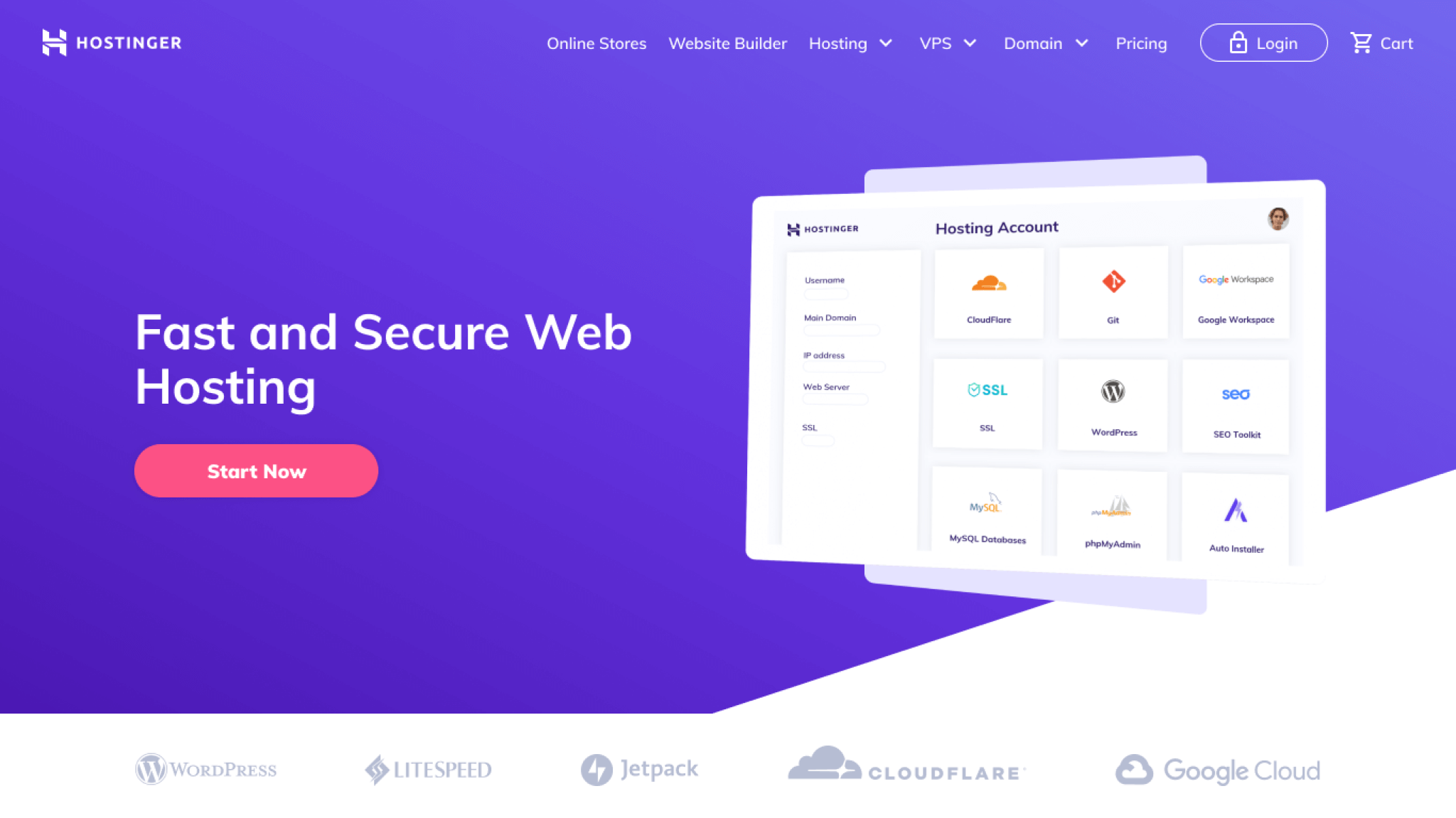 Price per month: Starting at Rs.69 Rs.63
Uptime: 99.99%
Money-back guarantee: 30-day
About Hostinger: Hostinger started in 2004 and steadily grew to become one of the largest web hosting companies in the world. Talking about the customer base, they host over 29 million domains (including subsidiaries) across 179 countries. This is a Lithuania-based web hosting company that offers very low-cost hosting services in India from Rs.69/mo. With 7 different server locations, including the UK, US, Brazil, Netherlands, Singapore, Indonesia, and Lithuania, Hostinger India offers shared hosting, VPS, and domain names.
Price: The Hostinger web hosting price starts at $1.99/mo and goes up to $37. The price of shared hosting ranges between $1.99 – $4.99 monthly. Hostinger VPS hosting ranges between $3.95 – $29.95/mo on Linux and Windows OS. The price for Hostinger Hosting ranges between $7.45 – $37 monthly. In comparison, the Minecraft VPS server plan starts from $8.95 and goes up to $29.95/mo.
Features: Hostinger offers a very cheap rate of hosting in the Indian market. The basic plan allows single domain hosting with a limited 30GB space and 100GB bandwidth. 1 email account and a free SSL certificate are allocated to this plan. It's perfect for those who are with a very tight budget and just getting started. If you are looking for more, higher plans (Premium & Business plans) are designed to remove all the limitations and caps, including free domain registration. They have their own custom build control panel. That's easy to operate with comes with many basic functions.
If you are used to cPanel, they also have cPanel hosting that starts at just $1.99/mo that includes 30 GB SSD storage, 1 TB of bandwidth, unlimited MySQL databases, FTP Users, One-Click Installer, Cloudflare DDoS protection, automatic backups, SSH access, free domain registration (with annual plan), and free SSL certificate.
Different VPS plans are available for those who need a virtually dedicated environment. Up to 8 vCores, 8GB RAM, 160GB disk space, & 8000GB bandwidth is a virtual private server's configuration.
For the high load sites, Hostinger has Cloud hosting. The basic configuration includes 200GB SSD Storage, 3 GB RAM, 2 CPU Cores, and it goes up to the higher level of 300GB SSD Storage, 16 GB RAM, 8 CPU Cores.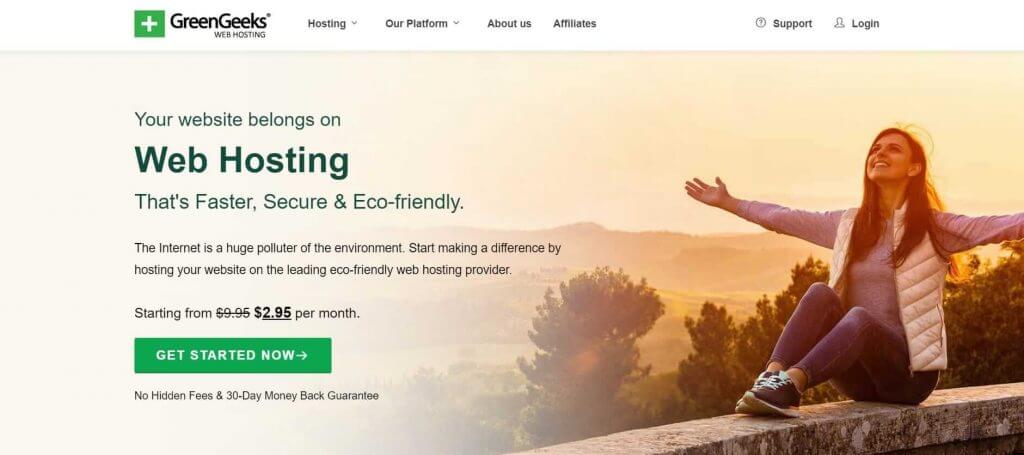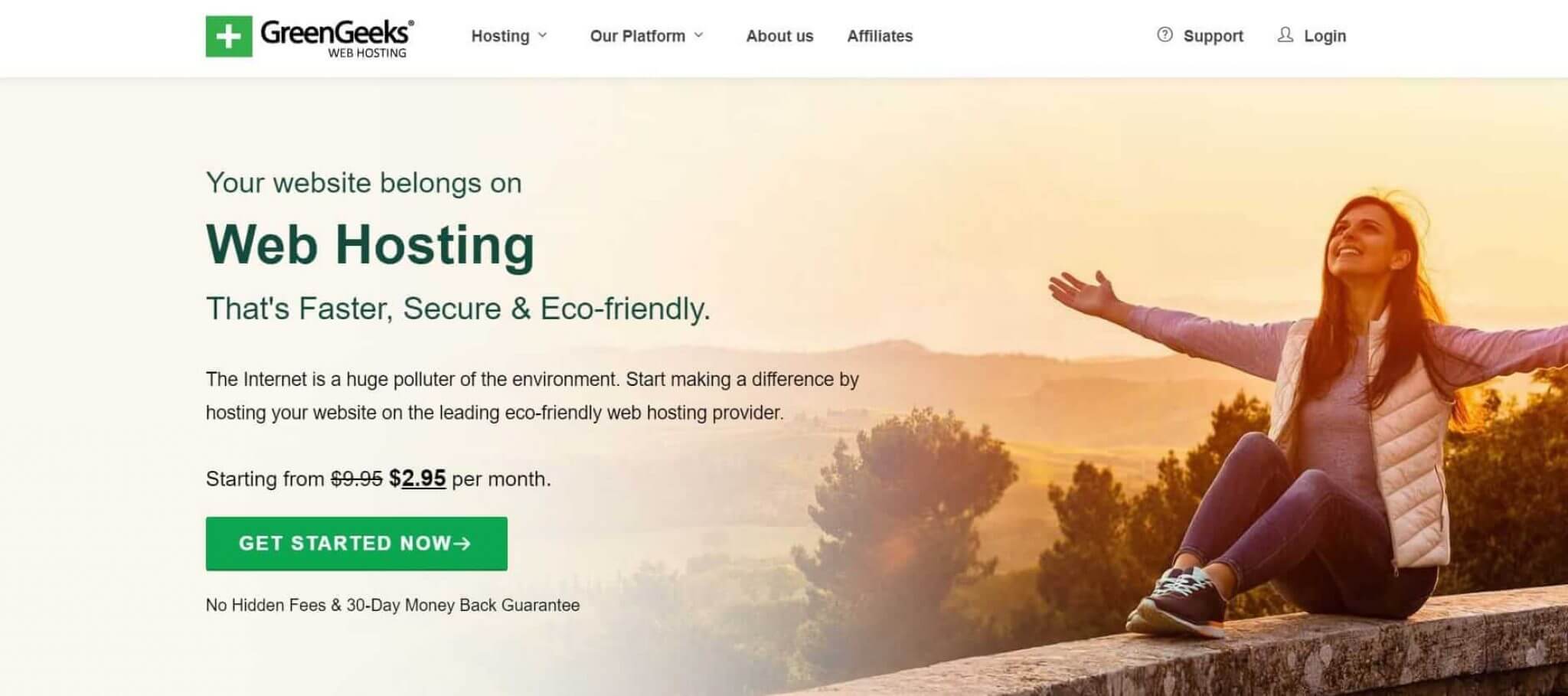 Price per month: Starting at $2.49
Uptime: 99.99%
Money-back guarantee: 30-day
About GreenGeeks: Greengeeks is an environmentally friendly hosting provider founded by Trey Gardner in 2008. With 11 years of experience, it's a Los Angeles, California, United States-based web hosting company and promises to provide a better hosting experience to customers from over 150 countries. Green Geeks preserves the beauty of nature and has many features, including unlimited SSD disk space, bandwidth, domains, emails, and MySQL database amounts.
Price: The GreenGeeks shared hosting plan prices start at $2.95/mo and increase to $109.95. The price of shared hosting ranges between $2.95 – $11.95 monthly. VPS hosting ranges between $39.95 – $109.95/mo. The price for GreenGeeks Reseller Hosting ranges between $29.95 – 59.95 monthly.
Features: GreenGeeks offers unlimited hosting means there is no cap or limit on storage disc, bandwidth, email accounts, and parked domains in all shared plans. SSL certificate and a domain name for one year are included in every shared plan as a freebie. There is no need to buy them separately. GreenGeeks WordPress hosting comes with a 1-click installation. There is a cPanel interface to manage sites or other things like domains, files, and more.
Weebly Website Builder is included in all shared hosting plans for those unfamiliar with the site design. This is a totally green hosting based on renewal energy. They use LiteSpeed Web Server with SSD storage for faster website loading and LSCache, included in all plans.
One of the best parts is the scalable computing resources. Add more RAM to your account when you need it. Ask them for an upgrade to your shared hosting account. There is a very long list of features, including website security and developer features. Overall, GreenGeeks is a great hosting in India with great features.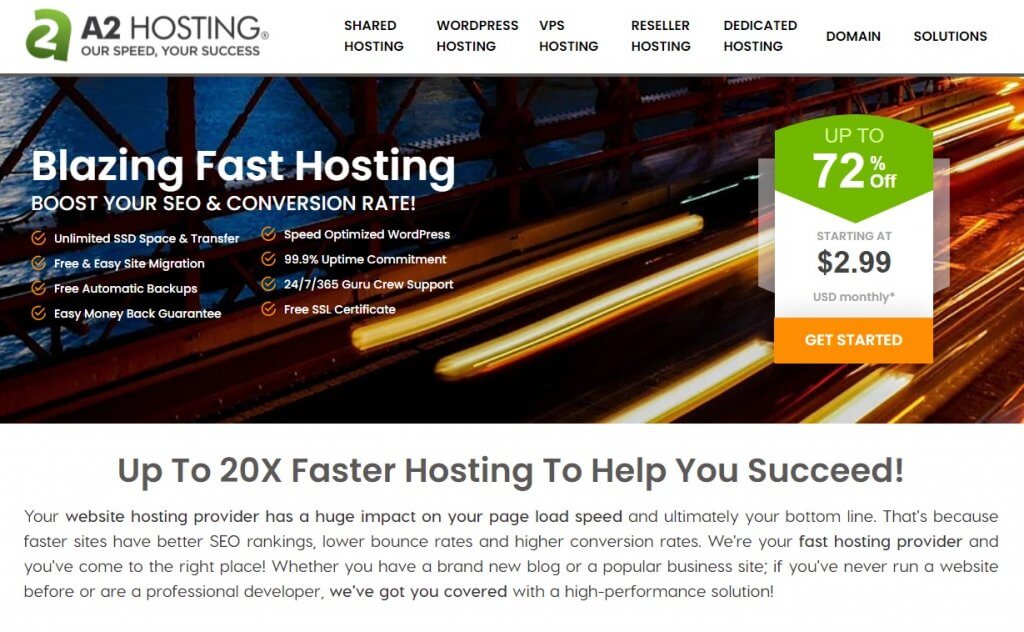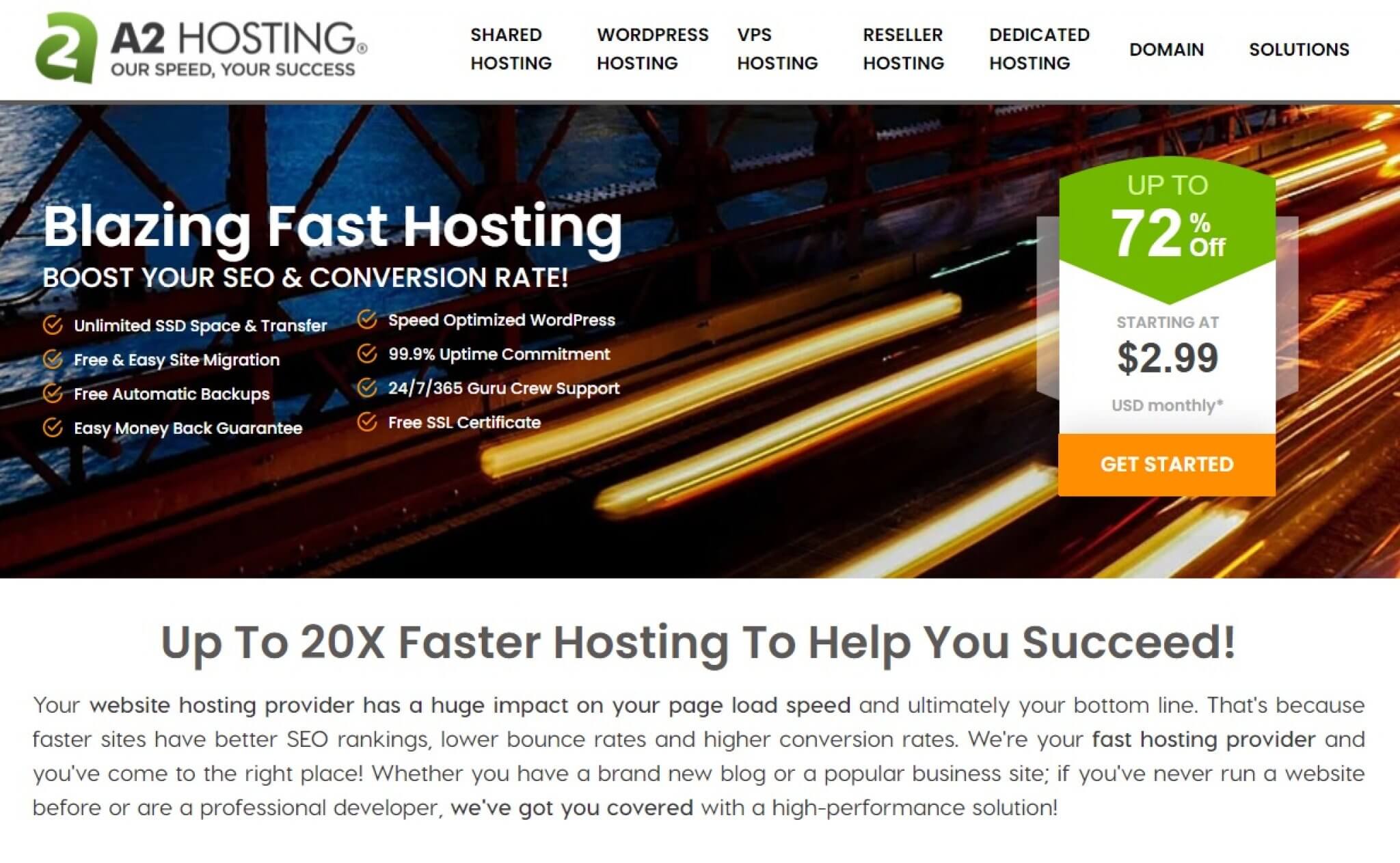 Price per month: Starting at $2.99
Uptime: 99.99%
Money-back guarantee: 30-day
About A2Hosting: A2 Hosting offer a variety of hosting plans in the Indian market. You can choose from a wide range of web hosting options, including shared hosting, VPS hosting, dedicated servers, reseller hosting, and WordPress hosting plans.
This is an Ann Arbor, Michigan, USA-based web hosting company. In India, their office is located in Ahmadabad, Gujarat. The company provides local Indian support through live chat, email, tickets, and toll-free no. to its Indian users. Indian users can pay easily through their local payment methods like net banking and general debit cards.
A2Hosting India has servers located in 3 continents, including U.S.A., Europe, and Asia. For Indians, Asia is the nearest location for low latency.
Prices: A2 Hosting offers the standard price in India. Shared hosting starts at just $2.99/mo when it is purchased for 3 years. And, this all is just an introductory price. It can be surprising when it comes to renewals. If we compare A2 Hosting with the competition, prices are higher for the offered features.
Features: A2 Hosting offers SSD and NVMe storage-based shared hosting plans. Any time money-back guarantee and good customers support are some features that stand out from the competition. The basic plan starts at $2.99 per month. You get one domain name hosting, 100GB SSD disk space, 5 MySQL databases, SSL certificate, Cloudflare CDN, and unlimited bandwidth. A2 Hosting miss free domain registration as competition offers it as a freebie for the first year.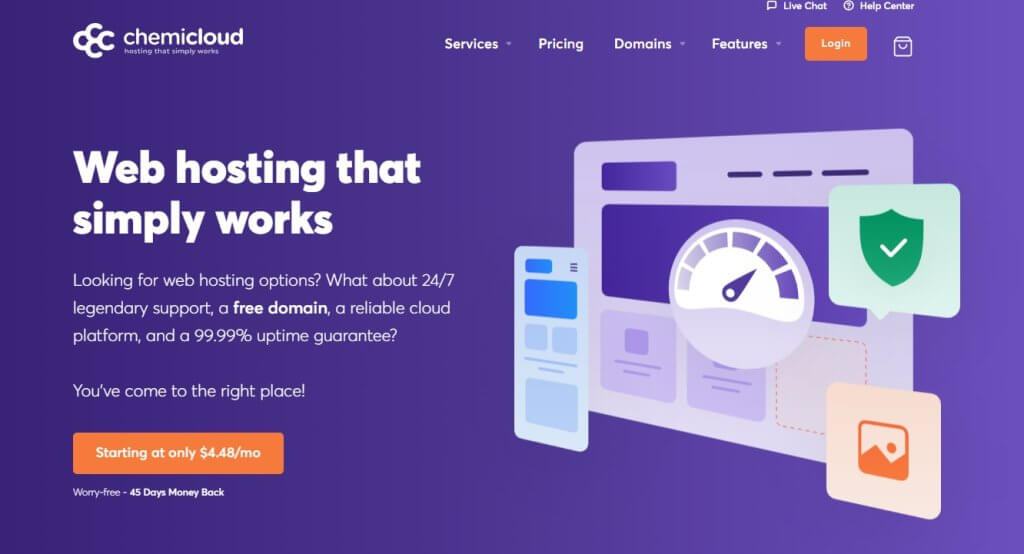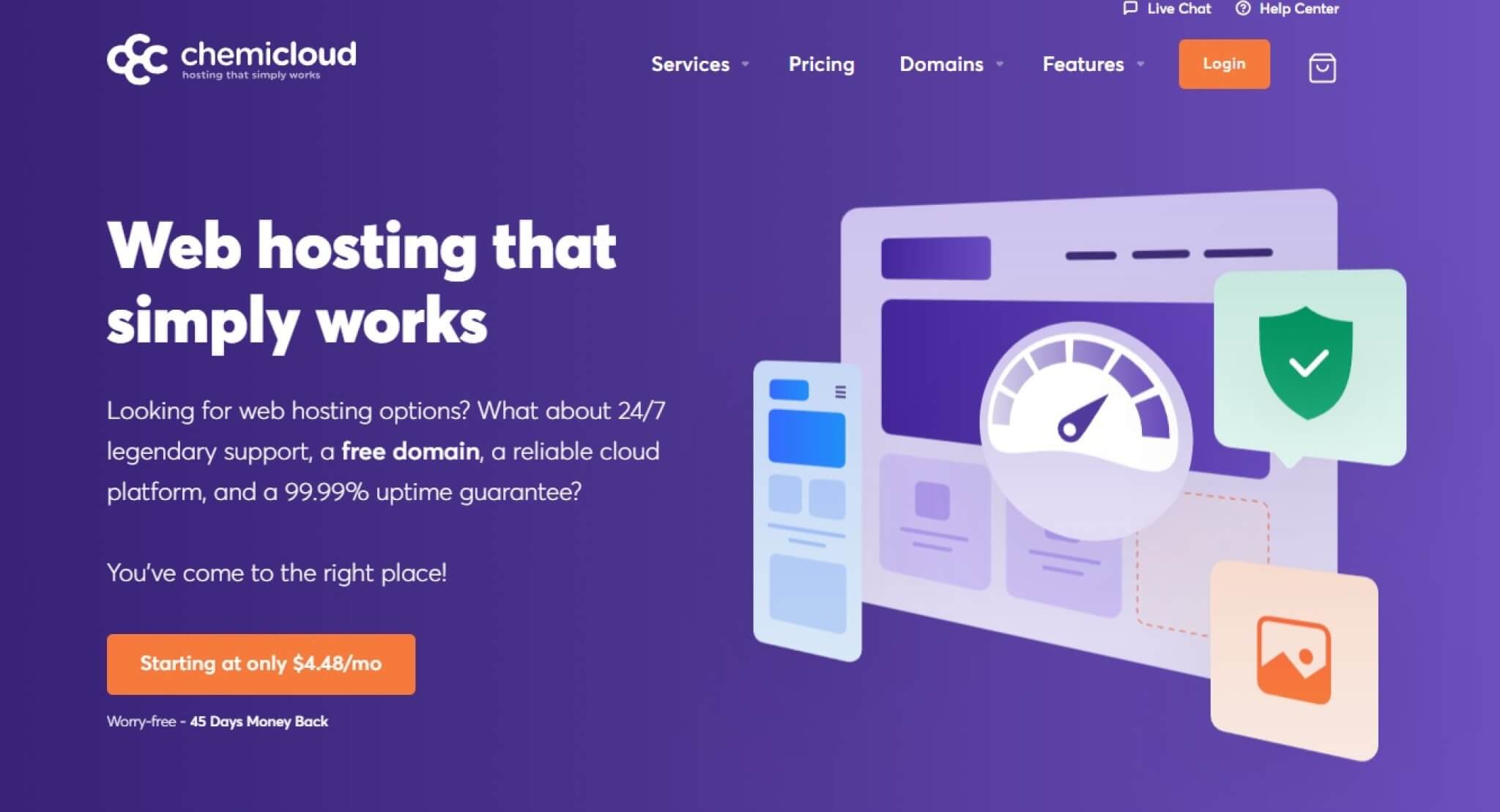 Price per month: Starting at $3.95
Uptime: 99.99%
Money-back guarantee: 45-day
About ChemiCloud: A U.S.A.-based, independently owned web hosting company. They are a team of web hosting specialists with experience of more than 10 years.
This company has an in-house support team of experts with good communication skills to solve the issues and is ready to help you 24/7.
Prices: ChemiCloud offers SSD storage server hosting with a limited amount of space. The basic pricing starts from $3.95 per month for a complete website setup. The hosting products, including Shared hosting, WordPress hosting, reseller hosting, and Cloud VPS, are available for purchasing. Reseller hosting costs $29.95 monthly, whereas VPS plans start at $19.95 per month.
Features: ChemiCloud claims to offer a 99.99% uptime guarantee on its service. Limited SSD space, cPanel, multiple server locations including Europe, USA & Asia. It's the best hosting for India, with the nearer server located in Bangalore (India).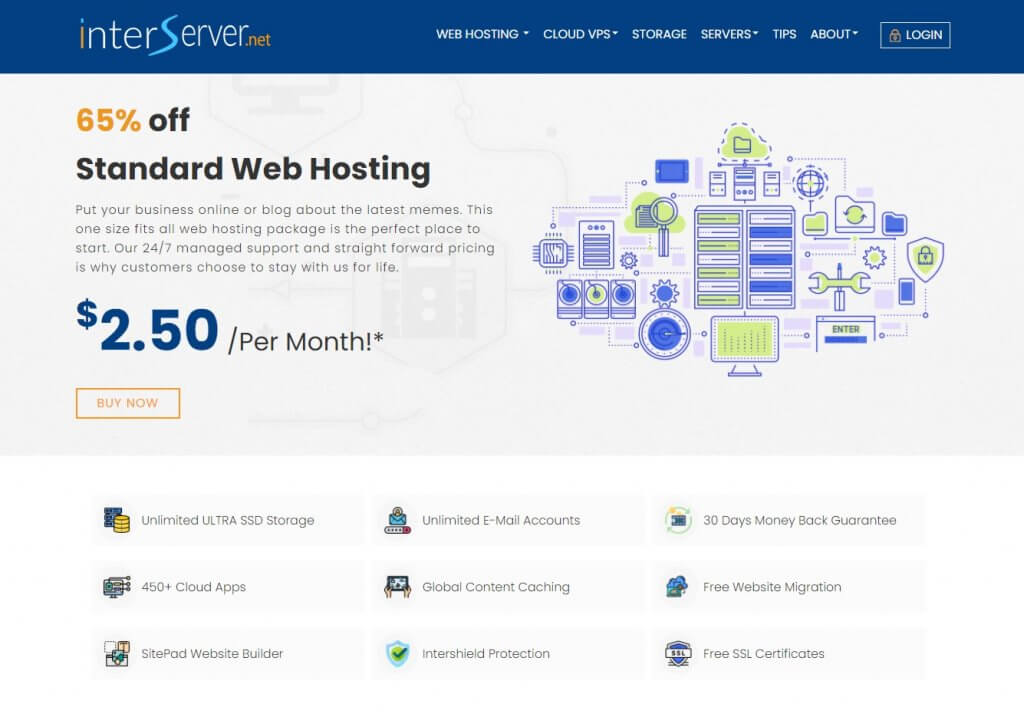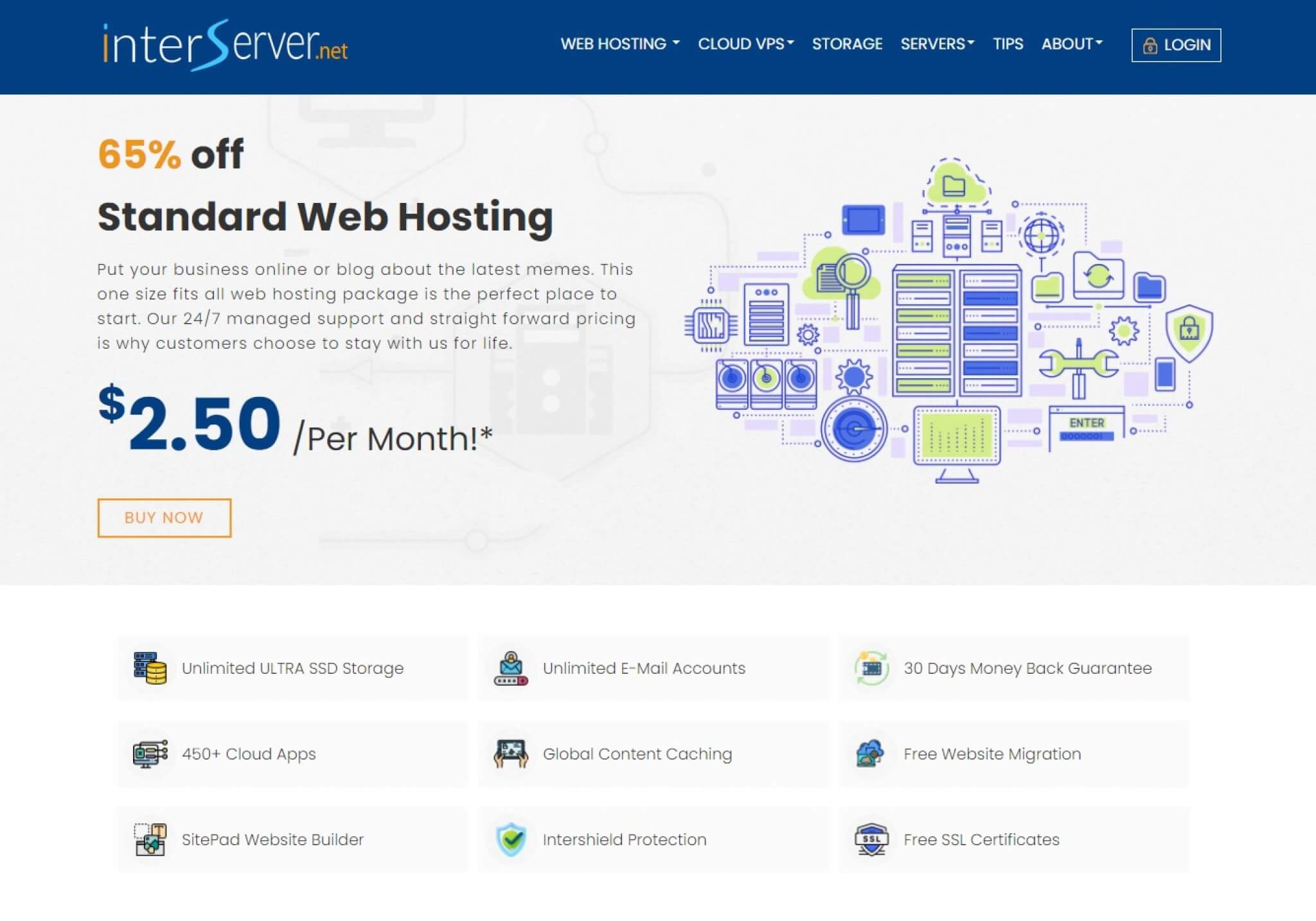 Price per month: Starting at $4.00
Uptime: 99.99%
Money-back guarantee: 30-day
About InterServer: One of the oldest players in the industry. From shared hosting to VPS and dedicated hosting, they have a great product portfolio.
Prices: The basic pricing starts at $4 per month for a shared hosting account. Cloud Virtual Private Servers (VPS) start at $6 per month, while a dedicated server costs $49 a month for an entry-level plan.
Features: InterServer has only a single shared hosting plan that starts at an introductory price of $2.50/mo. It has unlimited features like SSD storage, unlimited websites, email accounts, and bandwidth. Global Content Caching, Intershield Protection, free migrations, free SSL certificate are additional features you get with this hosting plan.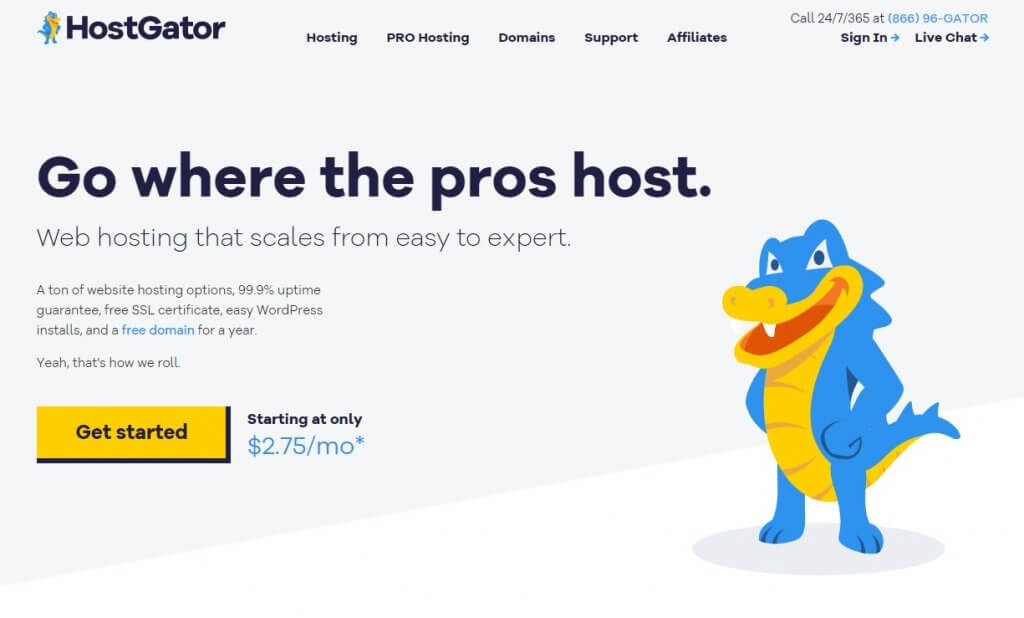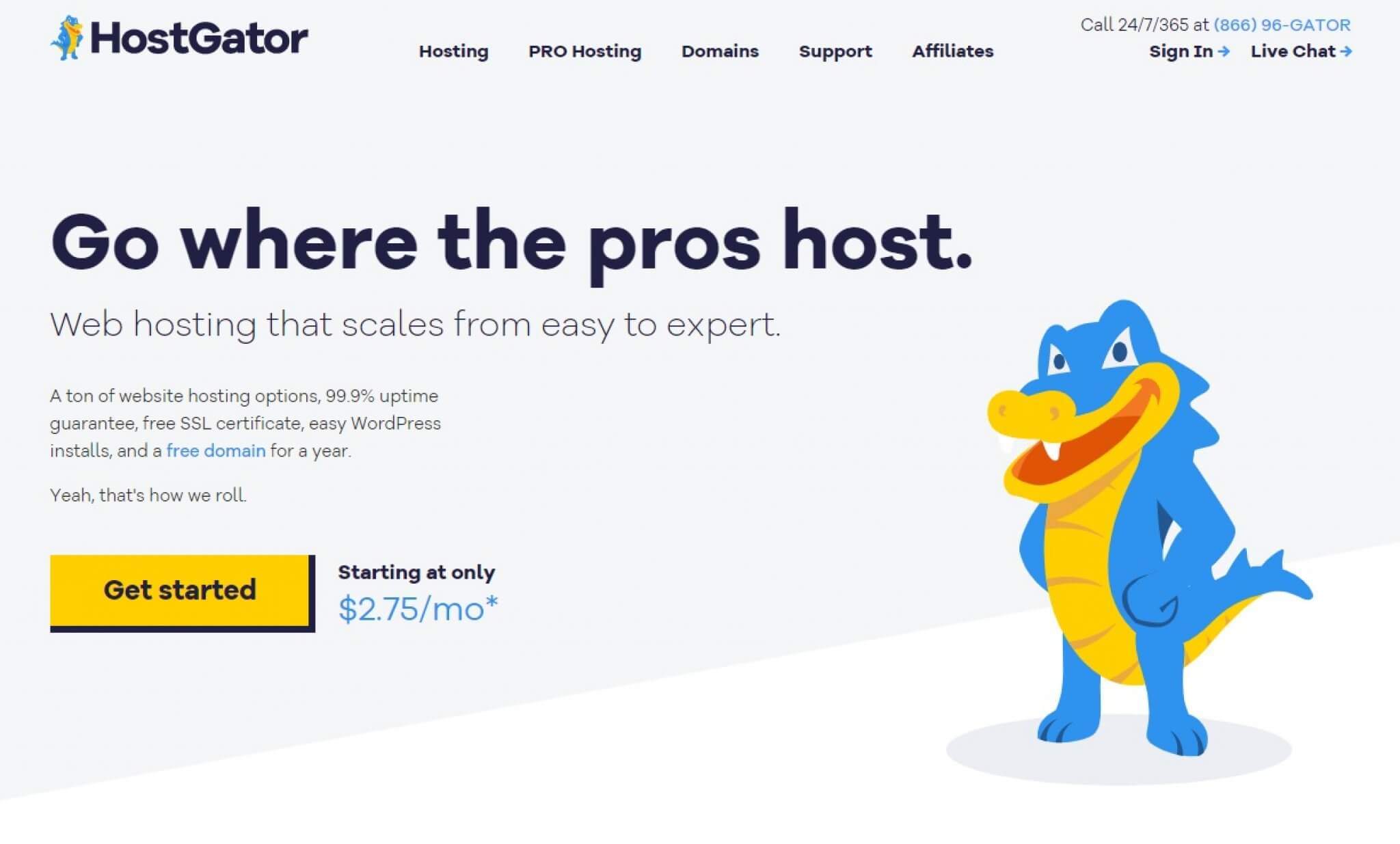 Price per month: Starting at $2.75
Uptime: 99.99%
Money-back guarantee: 45-day
About HostGator: Founded in 2002, one of the world's largest web hosting companies, with over 8,000,000 hosted domains. Hostgator offers shared hosting, VPS, dedicated servers, cloud hosting, and other web-related services.
Prices: To get started, Hostgator offers a complete hosting package for just $2.75/mo with 3 years of billing contract. For more advanced features, the first-time buyer has to pay $5.25.
Features: HostGator offers unlimited hosting features even in an entry-level plan. Excellent 99.99% uptime, a generous 45-day money-back guarantee, free domain, good customer support are the strong features that HostGator offers.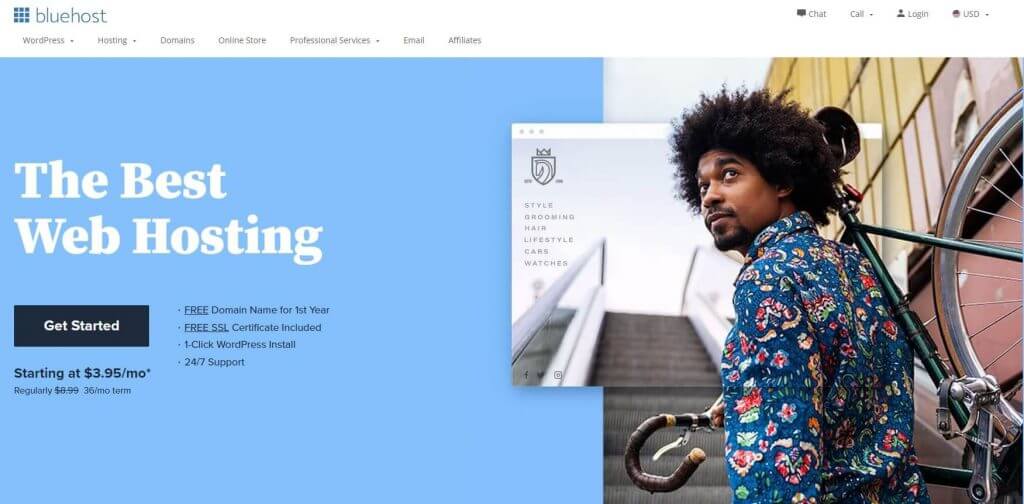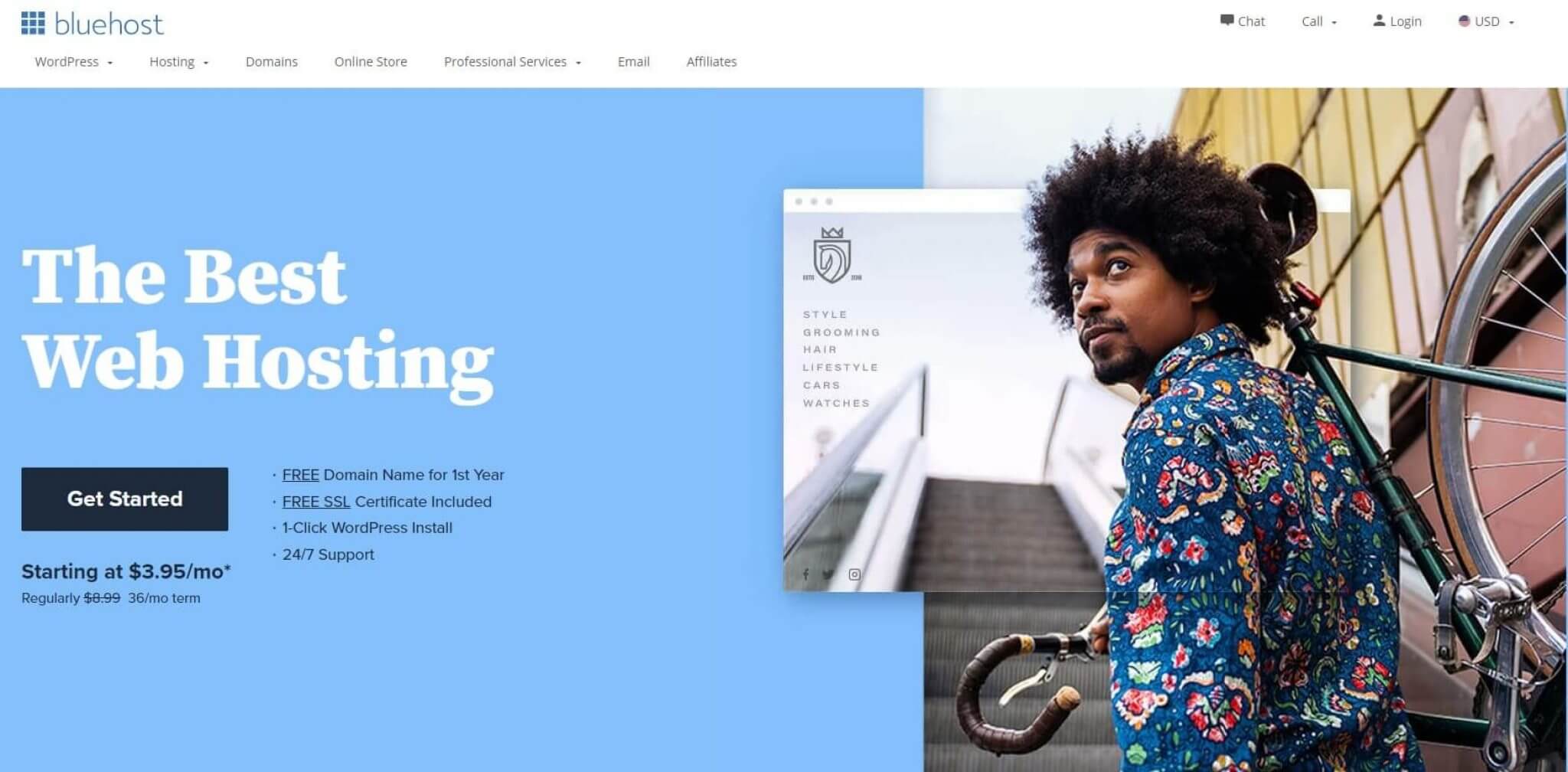 Price per month: Starting at $3.95
Uptime: 99.99%
Money-back guarantee: 30-day
About Bluehost: Bluehost is a web hosting company based in Orem, Utah, founded in 2003. This web hosting giant doesn't need any introduction. It's a trendy name among bloggers—Bluehost hosting over 2 million websites worldwide and is one of the most popular shared hosting providers. The company says they have over 750 employees for customers service.
Bluehost offers a wide range of services, including shared hosting, reseller hosting, VPS hosting, managed WordPress hosting, domain registration, etc.
Prices: With a basic of $3.95 per month, Bluehost offers shared web hosting plans. Managed WordPress hosting starts at a $9.95/mo price. VPS costs $19.99/mo, while a dedicated server starts at $79.99/mo.
Features: Bluehost web hosting comes with all the necessary features to start a website or blog: a fully loaded cPanel control panel, Free domain, SSL certificate, and WordPress integrated website builder. The entry-level plan is limited to 50GB storage while there is no cap on monthly bandwidth.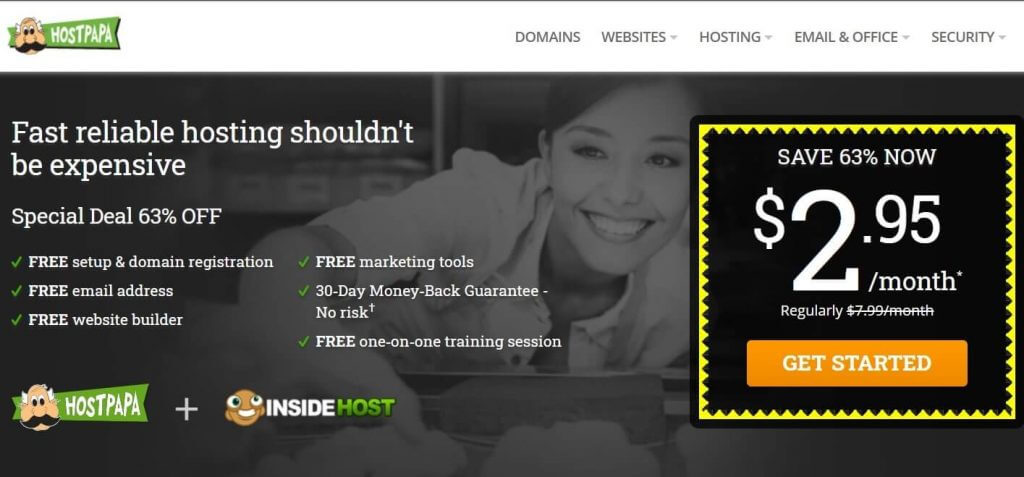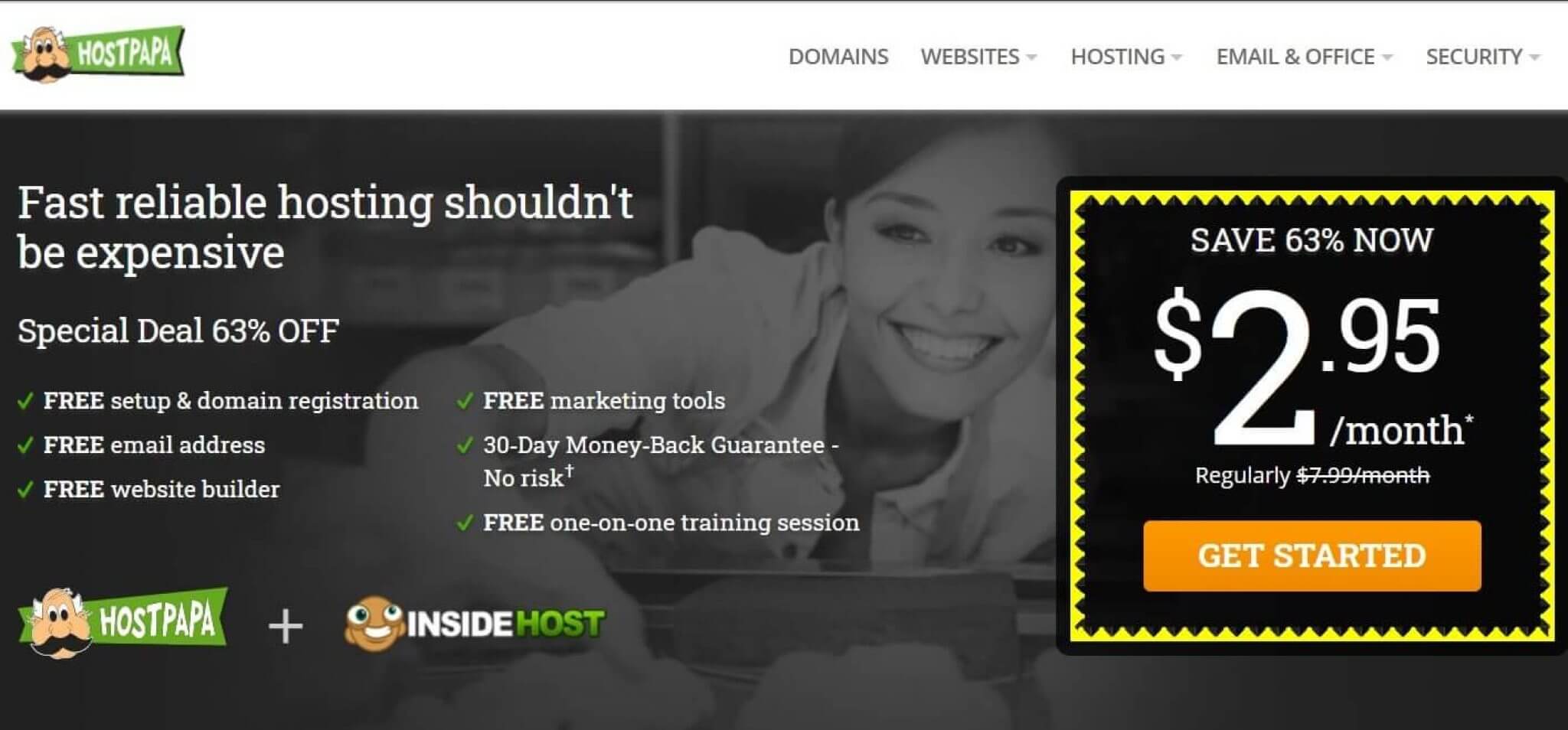 Price per month: Starting at $3.95
Uptime: 99.99%
Money-back guarantee: 30-day
About HostPapa: A Canadian web hosting brand that deals in Linux hosting. The company primarily offers web hosting, VPS, managed WordPress, and reseller hosting. They also offer services like domain registration, site lock security, email hosting, etc. They primarily focused on small business hosting, including WordPress and other CMS, and offer excellent perks with a nice lineup of features.
Prices: Hostpapa web hosting starts at $3.95/mo and goes up to $12.95/mo for shared Linux hosting. The price of VPS hosting ranges between $19.99 to $249.99/mo, while Reseller hosting ranges between $29.99 – $119.99 monthly.
Features: In an entry-level shared hosting plan, Hostpapa offers limited features, including 100GB SSD storage, 2 domain hosting. Most of the Hostpapa competitors allow only single domain hosting in the basic plan. HostPapa has broken this bar with 2 domain hosting in a basic plan. Business and Business Pro plans have unlimited storage hosting with unlimited domains.
For a website builder, you can create only 2 pages website in the Starter plan. This limit continues up to 1000 pages in the higher-level Business Pro plan. However, bandwidth is unlimited in all plans.SSL certificate, free domain registration for one year, 1-click WordPress install, Cloudflare CDN, cPanel, 24×7 technical support are the freebies offered by default in all plans.
Security features such as Domain Privacy, Sitelock detect, Premium wildcard SSL, and automated website backup are available only in the Business Pro plan. If you go with Starter and Business plan, you can buy security features as an addon during the signup process.
Overall, Hostpapa is a good host for starting a blog or small business website in India.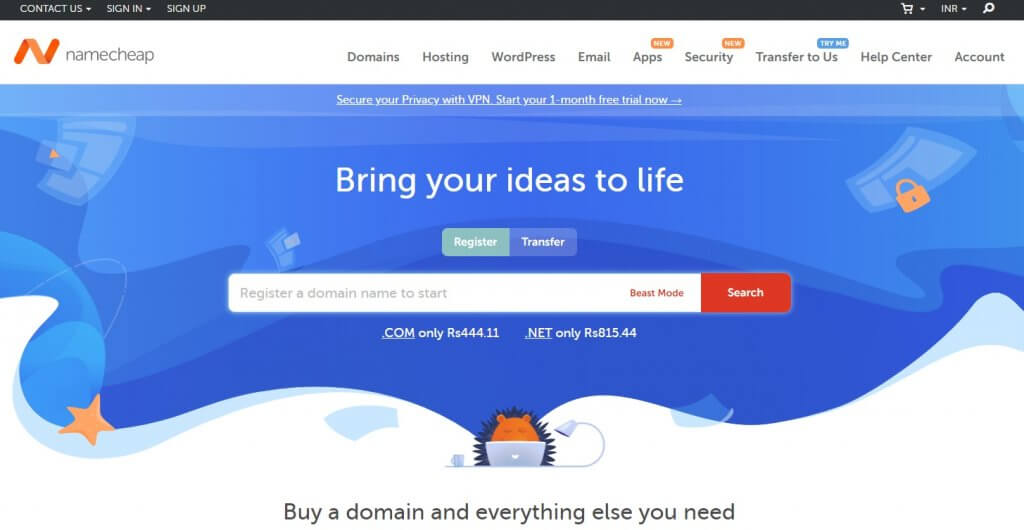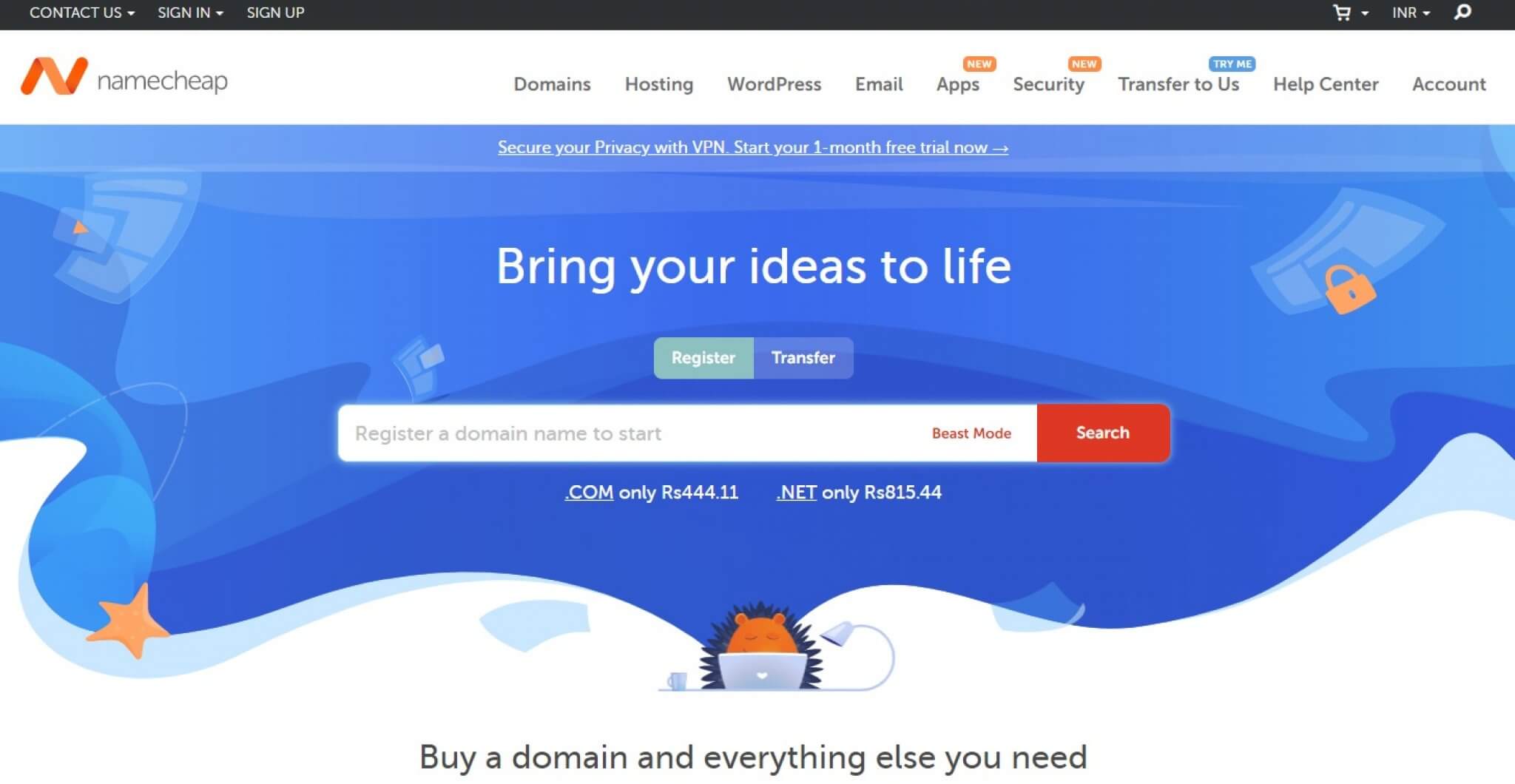 Price per month: Starting at $1.44
Uptime: 99.99%
Money-back guarantee: 30-day
About NameCheap: NameCheap has been a well-known and ICANN accredited domain registrar since 2001. This company provides domain registration at cheap rates. The other products are also offered at a meager cost, such as shared hosting, reseller hosting, VPS hosting, dedicated servers, email hosting, website security, and managed WordPress hosting.
Prices: NameCheap Hosting starts at an affordable price of just $1.44/mo. A one-year plan can be purchased for less than $30. A lot of freebies are included in this price.
Features: Youn can count several features at a low price. Features include a free domain, up to 50 premium SSL certificates for the first year, 1 click WordPress install, cPanel, 24hr live chat support. The NameCheap support on the live chat is just amazing. Overall, NameCheap offers good hosting with many excellent features on the budget.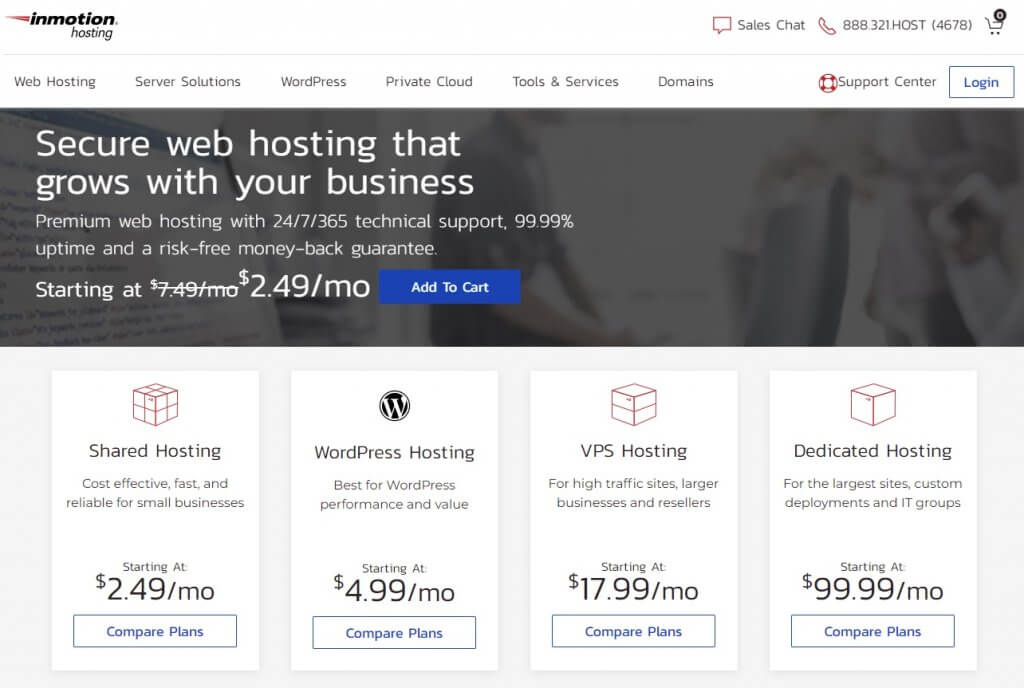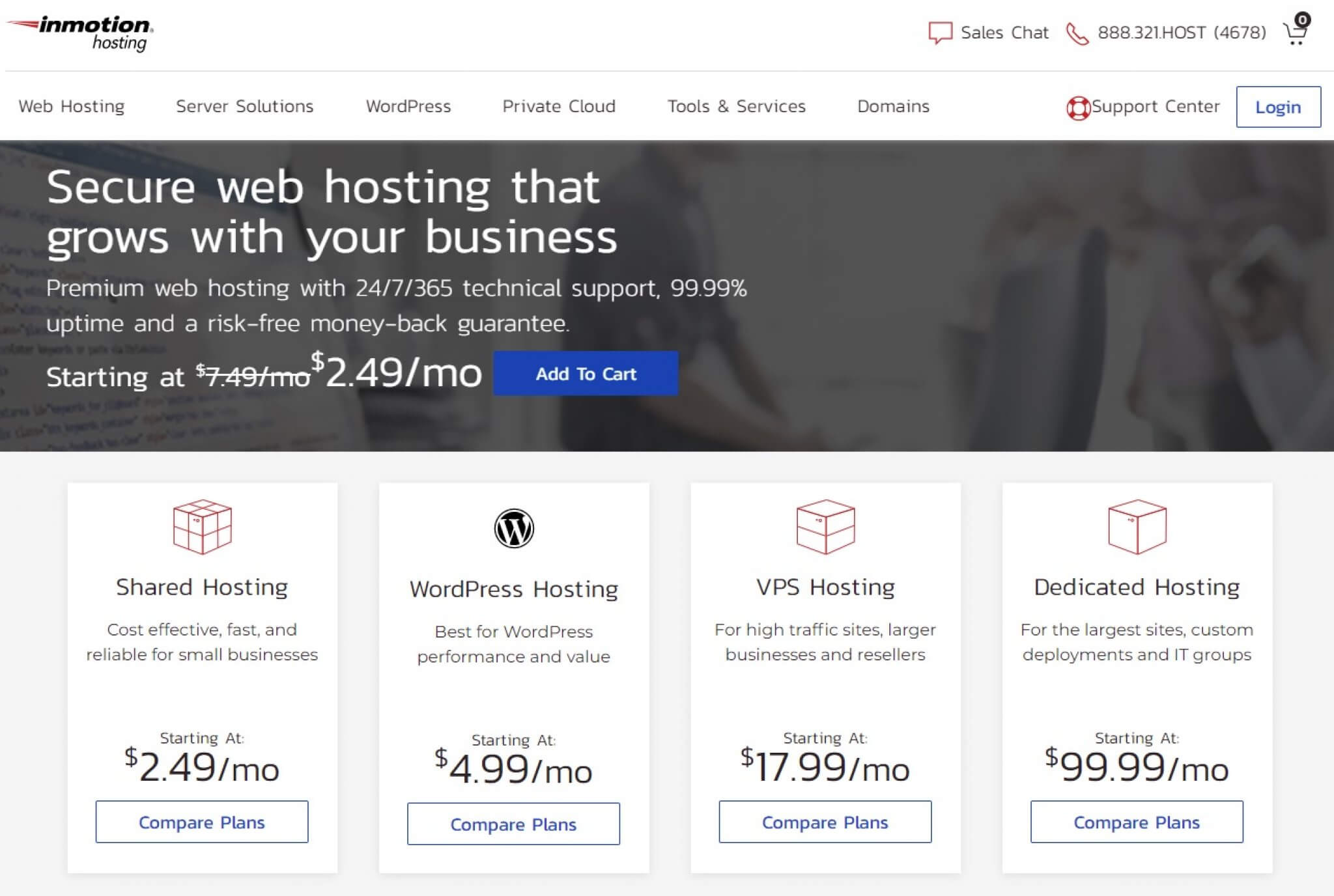 Price per month: Starting at $2.49
Uptime: 99.99%
Money-back guarantee: 30-day
About InMotion Hosting: A U.S.A.-based web hosting company that has been serving its customers for many years. InMotion Hosting has its servers in multiple locations throughout North America to offer small and growing businesses the best-featured service. The company always offers online 24×7 support to its customers for quick issue resolution.
Prices: Inmotion offers standard pricing for web hosting. They have 4 shared business hosting plans. The Core plan is priced at $2.49/mo with min 3-year billing contract with a single domain hosting. The launch plan costs 4.99 per month. This plan allows 2 domain hosting.
Features: InMotion offers the best-featured hosting for all types of businesses. If you have an E-commerce business, InMotion is just made for you. All shared hosting plans give great e-commerce product features and support. In any case, if you are not happy with their service, then there is a 30 – 90 day long money-back guarantee depending on the plan. InMotion is a good and reliable hosting solution for India.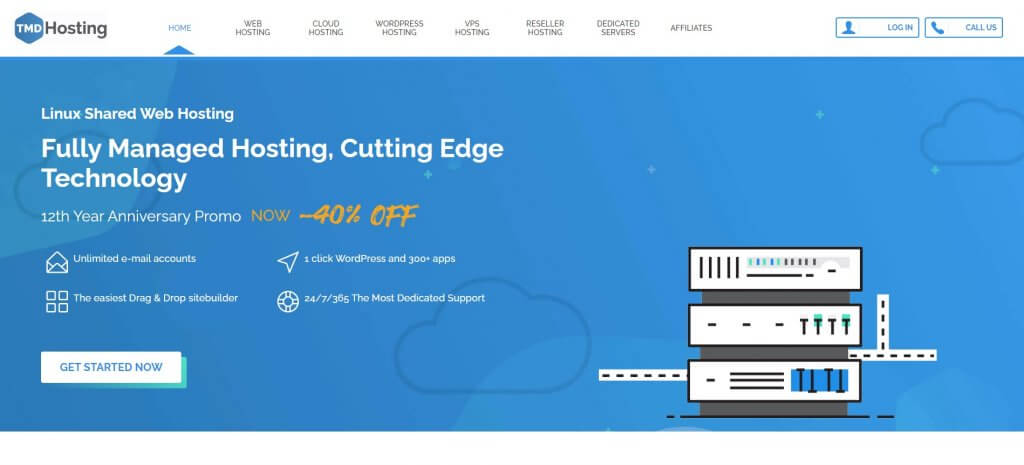 Price per month: Starting at $2.95
Uptime: 99.99%
Money-back guarantee: 30-day
About TMD Hosting: A company with a wide range of hosting products. TMD hosting has every level of hosting plan, whether you are just getting started or a large enterprise. With a variety of hosting plans, they have servers in 7 different locations around the world. TMD support almost every CMS, from WordPress to an online shopping script or even a multimedia website like music, video, and images.
Prices: TMD Hosting has every attraction if you are looking for an awesome hosting provider in India. Their introductory price for a basic shared hosting plan sticks to just $2.95/mo (Use our "INSIDEHOST" promo code to get an extra 7% off). You will get a reduced price of $2.65/mo. It renews at just $4.95 per month.
Feature: TMD Hosting gives you 60 days Money back guarantee, which is huge compared to a 30 days stand guarantee. There is no cap on space and bandwidth, and it's unlimited. Also, you get a free domain name, SSL certificate, the website builder to get started. The amazing feature that TMD Hosting offers is FFMPEG support in a shared plan. It's good for those planning to start a photography site, music, video, or streaming site in India.
Bonus Addition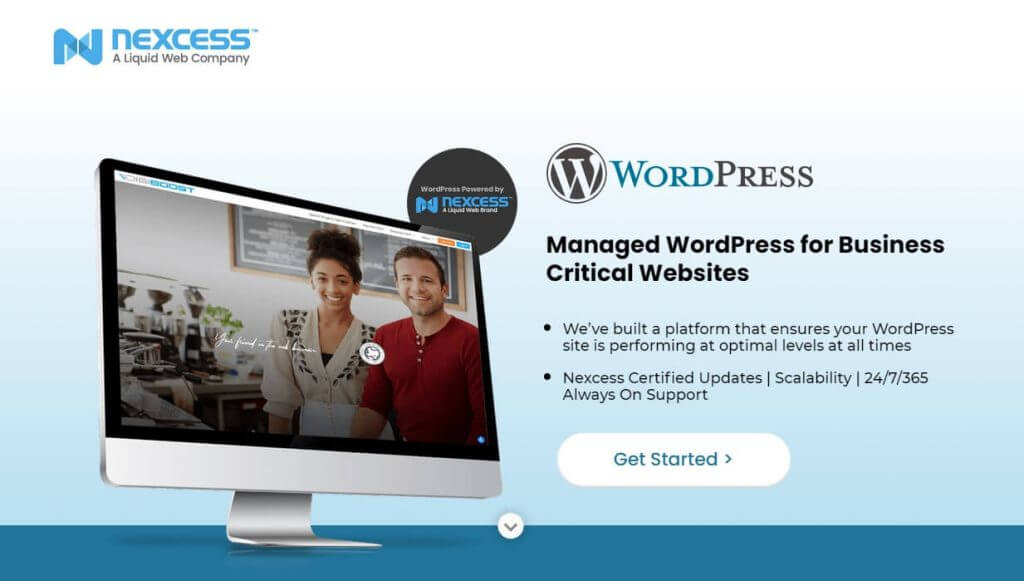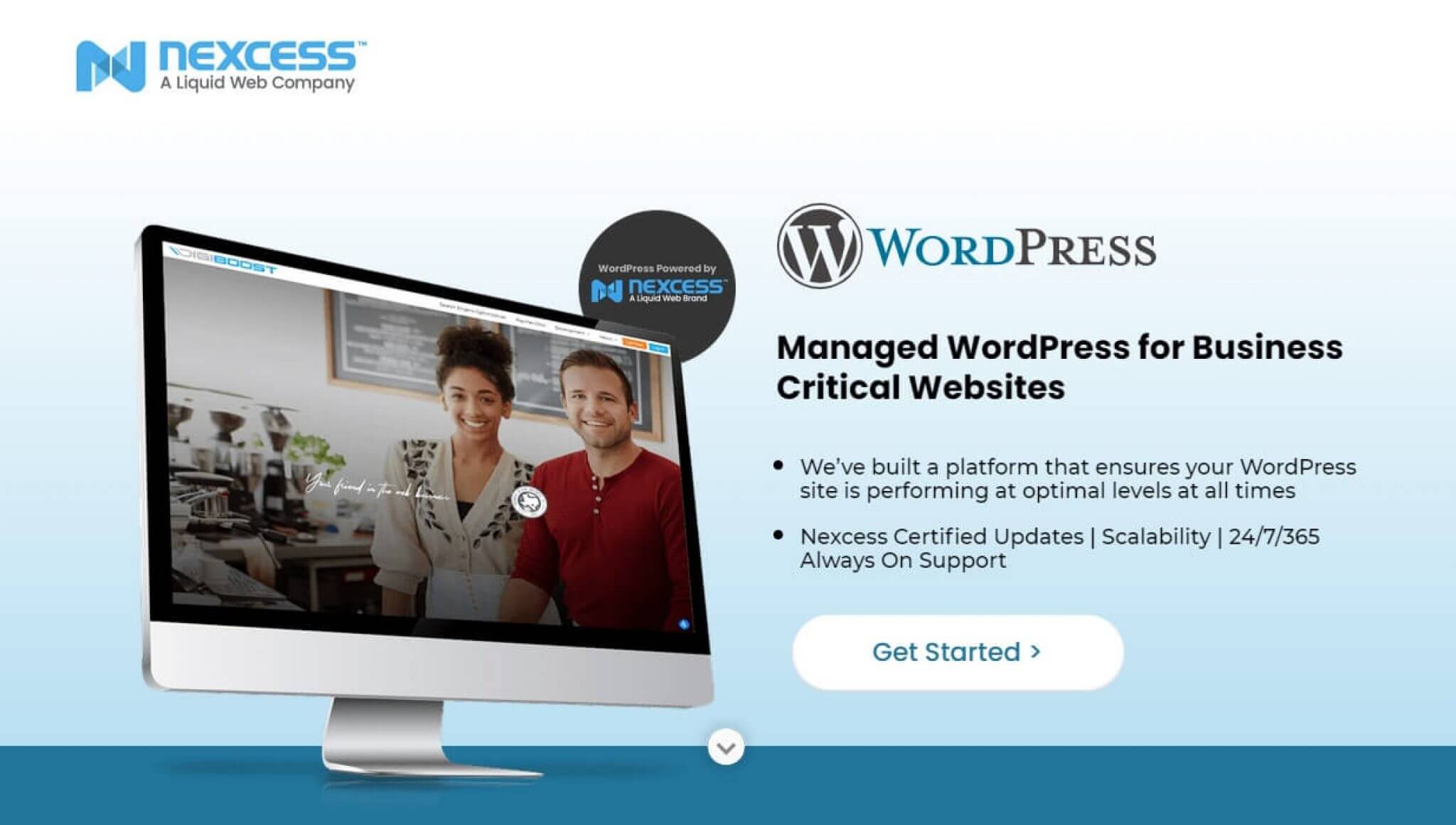 Price per month: Starting at $19
Uptime: 99.99%
Money-back guarantee: 30-day
About Nexcess: Nexcess (LiquidWeb's sister company) is a Michigan-based web hosting company & it is known for its maturity. They sell hosting products, including managed commerce hosting solutions including WordPress, WooCommerce, Magento, StoreBuilder, flexible Cloud hosting, and Enterprise hosting.
Prices: The basic pricing starts from $19 per month for a new website or blog setup. And, the price goes high up to $999 for the highest level of plan.
Features: For an entry-level plan has 15GB storage, 2TB bandwidth, and email accounts. Many managed WP hosting providers miss email accounts, but Nexcess gives it. Apart from it, a solid security plugin, lightweight WordPress/WooCommerce theme, 250GB CDN, and much more are included as a freebie in all plans. Nexcess Managed WordPress Hosting really makes things faster and allows more concurrent connections with 10 base PHP Workers given in the entry-level spark plan, and those can scale up to 20.
Sum Up
Whether you require it to run a blog or personal website and online store, there's no denying that good web hosting has become a requirement in today's times. So it's no surprise why the demand for reliable hosting has gone up to such an extent. However, price is still a factor that holds grave importance when making such a purchase. Picking the cheapest web hosting in India can be quite a quest. After all, besides the affordability aspect, you need to consider the features it comes with and if the hosting is stable enough to stand the test of time. Currently, the hosting market offers you a wide variety of web hosting companies that do not cause too big of a hole in your budget.
There is no doubt that Hostinger has the distinction of being the cheapest hosting in India. However, if you have millions of website visitors, the Hostinger may not be ideal hosting. Nonetheless, you can still find cheap web hosting that will fit your budget and accommodate your website's needs.
To make things easier for you, here are some of the top web hosting providers that have made it to India's top 10 cheapest web hosting. Hopefully, this will help make the decision-making process a little less daunting for you.
Frequently Asked Questions on Web Hosting
Things to consider before buying web hosting
When you're not sure what type of hosting your website or business need, you should go with shared web hosting. Most of the hosts limit their starter plans and expand the features in higher-level plans. Check every plan carefully for what exactly you need.
Storage Space – It varies in all plans. Make sure how much space you need. Some hosting companies offer it as "Unlimited. "
Domain Limit – Most of the hosts allow single domain hosting in entry-level plans. In comparison, some hosts allow 2 domain hosting. There are very few hosts offering unlimited website hosting.
Bandwidth – Check whether you are getting enough bandwidth. Many hosts offer unlimited bandwidth across all the plans.
Uptime Guarantee – Uptime is the most important criterion when choosing a hosting plan. Downtime many ruined your hard works & may run your site visitor away. The standard uptime guarantee is 99.99%. Below 99.95% is not acceptable.
Moneyback Guarantee – Make sure your chosen hosting company offers a money-back guarantee. A 30-day moneyback guarantee is the industry standard. But some companies offer around extended 90-day guarantee.
Website Builder – If you need a website builder to design your site. Make sure to check you are getting it free or as an addon. You don't need to buy a costly site builder. Most of the hosting providers offer it free with hosting.
Customer support – Check their customer support. Will they be available whenever you need them? Do they offer live chat, Forums, knowledge bases, and help tickets?
Freebies – Many hosting companies offer free domain names and free SSL certificates within the hosting plan.
Email Accounts – Email hosting comes free within the hosting packing. But some hosts don't offer it, and some offer it as an addon. Email accounts play an important role in communication. Check it carefully when choosing a hosting plan.
Customer Reviews – Most of the customers trust review sites before making any purchase. Before making any decision, crawl our site and all over the web for existing customer reviews. It gives an idea about any web hosting company.