Magento is an open-source e-commerce application used to run or start an online store but does not include hosting. Many hosting providers claim to offer Magento hosting but all those are the same as their shared hosting. It needs many optimizations and setting to run Magento software smoothly at the server backend. So you can upload as many products as you want to run a fully loaded professional online store. Not every host does these optimizations, they offer traditional shared hosting in the name of Magento hosting.
Now the question is "Who offers real Magento hosting?"
"Nexcess" is the answer to this question.
Yes, Nexcess offers the best fully managed Magento hosting where you don't need to do any technical setup. No matter you are a beginner or just starting an online store or facing issues with your current host or you run an old store on a slow host or you are sick of a substantial technical setup. Nexcess holds you back so you can run your online business with ease.
What's Unique about Nexcess Magento Hosting?
Fully managed
Fast and Scalable
Easy upgrades
Free migrations
100% Network & Power Uptime SLAs
Generous resources and PHP workers for robust performance
Built-in edge CDN with 22 locations
Custom dashboard
Magento experts support & monitoring
Multiple sites hosting
Free SSL certificates
30-day money-back guarantee
Daily backups

Pros and Cons
Positive
Dedicated & Shared environment choice
PCI-compliant hosting
Nexcess in-built CDN
Premium-grade support
No setup fee or hidden charges
Dedicated IP address with dedicated plans
25+ PHP Workers in the base plan (That's huge)
Unlimited email accounts
Nexcess Magento Hosting Features
| | |
| --- | --- |
| Disk Space / SSD Storage | 50GB – 800GB SSD |
| Bandwidth | 1TB – 10TB |
| Additional Bandwidth Cost: | The overage is $0.50 per GB |
| Website Transfer: | Yes |
| Full Root Access: | N/A |
| RAM: | 20GB – 32GB |
| vCPU Cores: | 20 – 32 |
| Moneyback Guarantee: | 30 Days |
| cPanel | Custom |
| Website Backup & Restore: | Yes |
| Uptime SLAs: | 100% |
| Payment Modes: | PayPal and Credit Cards |
| 24/7 On-site Support: | Phone/Chat/Email |
| Toll-Free Number: | 1800-580-4985 |
| OS: | Linux |
| Dedicated IP: | 1 IP included in dedicated plan |
| Extra IP | $5/IP/month |
| Pricing Model: | Monthly |
| Promo Pricing: | Starting at $31 per month |
| Renewal Price: | ($62/month) |
What is the Magento Hosting Provisioning Time?
Regarding deployment time, it would take from 24 to 48 hours to set up the Magento dedicated server. Shared Magento plans are activated once the Billing Team verifies the order.
Plans and Pricing
The base price for Managed Magento hosting plans starts at $62 per month. There is only monthly tenure for billing. Don't worry you get a discount for monthly billing also. Just keep eye on the latest promos. But this is just for the first time purchase. Renewal will be on the full and that's $62/mo.
The first three plans from XS, S, and M are shared, while L, XL, and XXL are on a dedicated server. The bandwidth varies between 1000GB bandwidth to 10 TB in every plan level. The base plan XS can handle up to 11 sites with 25 base PHP workers and can be autoscaled to 50 PHP workers.
Nexcess also has specialized Magento dedicated servers if you want a dedicated environment. There are two plans to choose from SIP 400 and SIP 500. Nexcess Magento dedicated servers comes with a custom dashboard and email accounts. These servers are fully managed and you are free from technical setups. Their experts will take care of everything for you. The pricing for these servers is not mentioned on the website. You can request a quote for it.
If you want more flexibility, Nexcess offers Magento enterprise hosting. Nexcess is the platform of choice for large businesses worldwide. All you need to do is contact the Nexcess team and let them know your requirement. They have a solution for your every need.
Managed Magento hosting plans
Dedicated Magento Servers Plans
| Plan Name | Space | Bandwidth | RAM | OS | Price | |
| --- | --- | --- | --- | --- | --- | --- |
| SIP 400 | 800 GB | 5 TB | 32 GB | Linux | – | Details |
| SIP 500 | 1 TB | 10 TB | 48 GB | Linux | – | Details |
Building a Site
Creating a Magento website with Nexcess. We chose the entry-level XS plan. Once we finished the initial sign-up process and logged in to Dashboard, we were greeted by many features inside, such as Chosen plan details, DNS feature, SSL installation, billing, access to create support tickets, and the knowledge base section for self-help articles.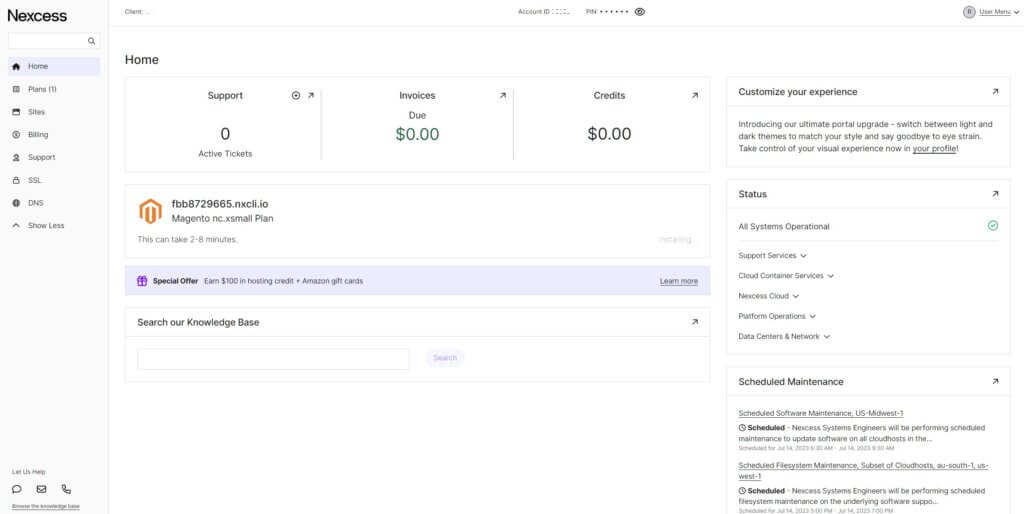 Nexcess creates a Magento site for you on a subdomain. This can take 5-10 minutes to install Magento software automatically. You can add your owned domain to your account later.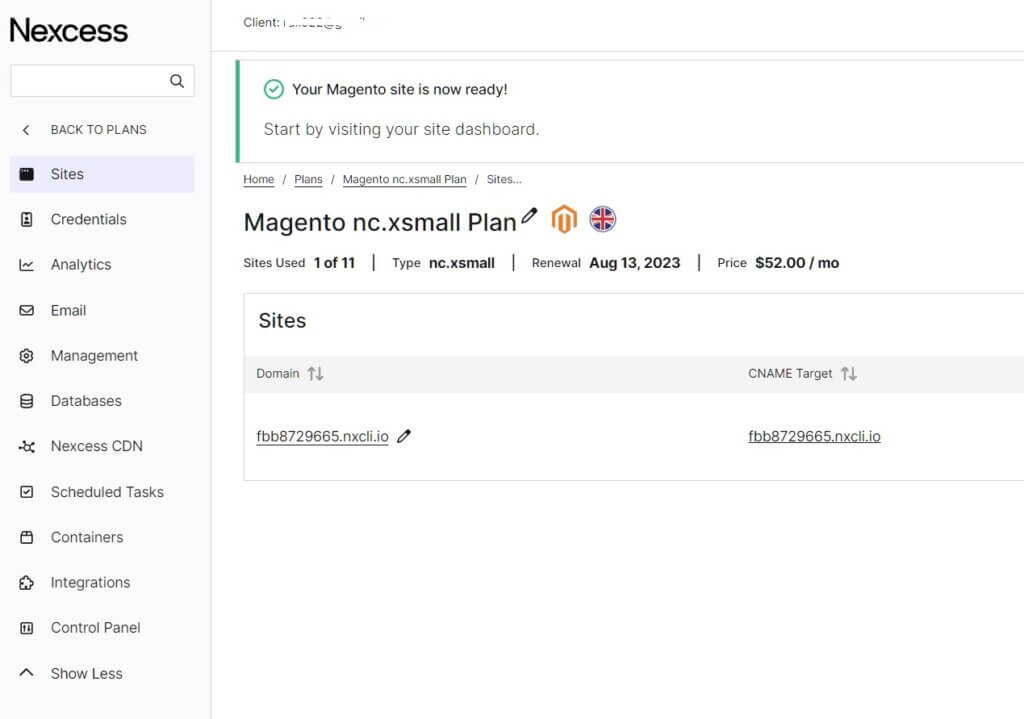 Once the Magento site is created, we get access to Magento Site Dashboard. We found all our SSH/SFTP login details in the Credential section. We are able to access to Magento Application Admin dashboard directly from here. Through the Analytic section, we can view disc space usage, CDN usage, and bandwidth usage. In the email section, we can create our own email id's to send and receive emails with our own domain name. In the Management section, we can enable NGINX Accelerator, Varnish Caching, and Auto Scaling (The first cumulative 24 hours of scaling for your site are free. After that, we will charge $6/hour, billed in 30-minute increments). Also, in this section, we can change PHP versions.
In the Database section, we can access the phpMyAdmin panel. And also, we got the ability to create databases and users. We can purge the cache and can find CDN Hostname and endpoint details to configure the CDN service. 250 GBs CDN is included within the plan and overage usage is at $0.10/GB.
Within the dashboard, we can upgrade the existing plan to a higher one or we can request service cancellation from there.
Excellent Customer Service
Nexcess offers live chat, email, and phone support through the dashboard. You can find it in the left bottom corner. The support ticket is the best way to solve any technical issue and we got a reply within 2-5 minutes. For emergencies, a phone number is the best way. Where for product details, Live chat is there.
Unfortunately, there is no toll-free number. There are separate phone number lines available for American, Australian, and United Kingdom people.
Nexcess has a 30-day money-back guarantee that lets you cancel your web hosting at any time and receive a refund for the remainder of the unused time. That's a good incentive to at least sample the service.
100% Uptime Guarantee
Nexcess claims 100% uptime commitment on power and internet connectivity. That means service uptime is stable. We have set the monitor to test the Nexcess uptime for this Magento plan for the next 30 days. Today is 13 July. 2023. After 30 days, we will share the results with the screenshot here.
Quality Hosting But not Affordable
Nexcess has resource-rich Magento hosting plans that should suit your needs. Not matters whether you have a growing website or a large enterprise. Nexcess has great plans for you. Peoples at Nexcess believe in managed hosting so you can focus on your business. In addition, Nexcess has excellent uptime and helpful customer service to boot. If pricing is not a concern, Nexcess is pure Gold.
Disclosure
When you buy through affiliate links on our site, we may earn an affiliate commission, at no cost to you.