Liquid Web, a well-reputed and established brand offers managed dedicated solutions for websites. The product portfolio includes managed VPS (Virtual Privates servers) and managed dedicated servers. Liquid Web has its very own data centers in the United States and Europe. In this Liquid Web review, I will focus on its VPS services, analyzing the pricing, performance, security, and more.
What's Unique About Liquid Web VPS
Managed
Control Panel Included
Free websites migrations
Backup space included
Backed by Real Human Support
100% Network & Power Uptime SLAs
30 Day Money Back Guarantee
Liquid Web in its own words
Managed VPS hosting provider | SSD VPS from $59/mo to $219/mo | Data centers in EU and US | 25,000+ Servers Powering 30,000+ Happy Customers | 25+ years of experience | Faster than AWS, Rackspace, and DigitalOcean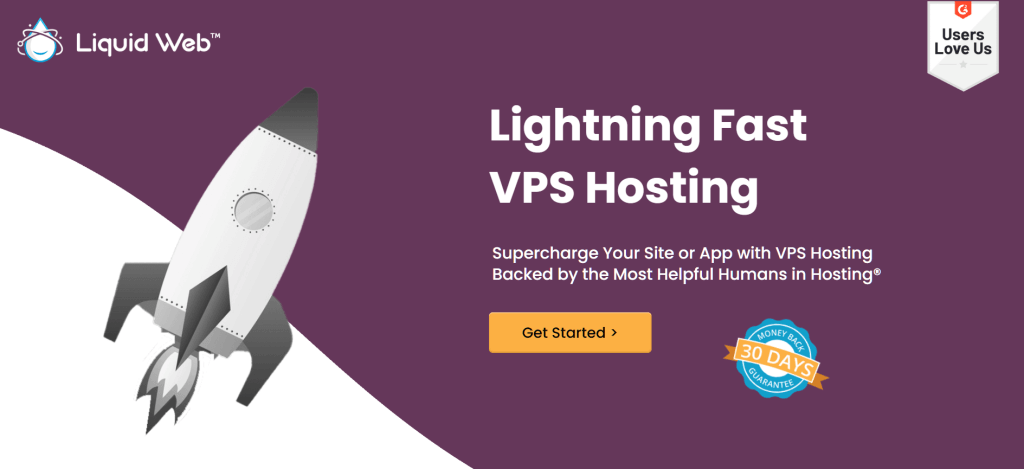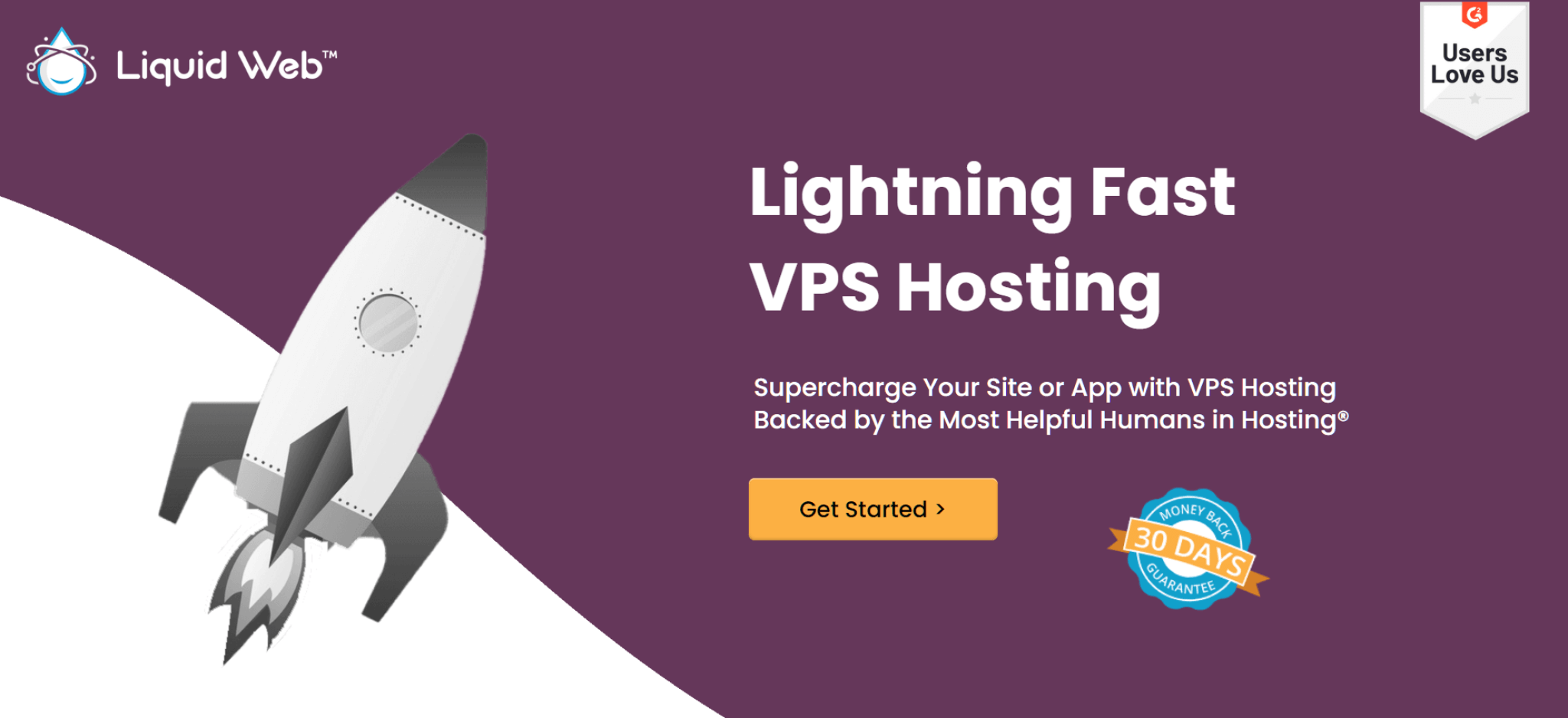 Pros and Cons
Positive
No Setup fee
The choice to choose a control panel from InterWorx, Plesk Web Pro, or cPanel Admin
Fully managed service
Lots of addons
100% Network & Power Uptime SLAs
Free and fast website migrations
Easy upgrade or downgrade
Root access
Negatives
No multiple custom operating systems.
Strictly not for developers
Not The Cheapest Option
Liquid Web VPS Features
| | |
| --- | --- |
| Disk Space / SSD Storage | 40GB – 200GB SSD |
| Bandwidth | 10TB |
| Additional Bandwidth Cost: | The overage is $0.25 per GB |
| Website Transfer: | Yes |
| Full Root Access: | Yes |
| RAM: | 2GB – 16GB |
| vCPU Cores: | 4 – 8 |
| Moneyback Guarantee: | 30 Days |
| cPanel | InterWorx, Plesk Web Pro, or cPanel Admin* |
| Website Backup & Restore: | Acronis Cyber Backups (Up to 100GB Space) |
| Uptime SLAs: | 100% |
| Payment Modes: | PayPal and Credit Cards |
| 24/7 On-site Support: | Phone/Chat/Email |
| Toll-Free Number: | 1800-580-4985 |
| Firewall: | Yes |
| OS: | Linux and Windows |
| Linux OS: | AlmaLinux or CentOS 7 Only |
| Windows OS: | Windows Server 2019 Only |
| Dedicated IP: | 1 IP included |
| Extra IP | $5/IP/month |
| Multi-level DDoS Protection: | Yes |
| Pricing Model: | Monthly, 12 Months and 24 Months |
| Promo Pricing: | Starting at $15 per month (12 & 24 Months Subscription) |
| Renewal Price: | ($59/month) |
What is the VPS Provisioning Time?
After successful payment, it takes hardly 25 minutes to hand over your VPS by the Liquid Web team. Like other brands, it's not instant.
Plans and Pricing
The base price for Linux VPS of Liquid Web starts at just $59/mo. If you choose 24 months billing term you get maximum discount. Whereas if you go with Windows VPS you will have to pay $163 for the monthly bill. The same longer billing gives you the maximum discount. Just keep the eye on Liquid Web promotional offers. A longer billing period is strongly recommended.
Every month Liquid Web releases promotions to lower the price of VPS. That means, for the first-time purchase you get VPS at a very affordable cost. For more savings, head over to our coupon section.
If you are looking for more space in your existing VPS plan, you cannot add additional storage space as they are pre-configured. For this, you have to upgrade to a higher plan. Every VPS plan has 10TB of bandwidth that renews every month. Incoming bandwidth is free. While outgoing bandwidth overage is $0.25 per GB.
Looking for a dedicated server instead? See the dedicated server here
Linux VPS Plans
| Plan Name | Space | vCPU | RAM | OS | Price | |
| --- | --- | --- | --- | --- | --- | --- |
| 2 GB RAM | 40 GB | 2 cores | 2 GB | Linux | $59 | Details |
| 4 GB RAM | 100 GB | 4 cores | 4 GB | Linux | $99 | Details |
| 8 GB RAM | 150 GB | 8 cores | 8 GB | Linux | $139 | Details |
| 16 GB RAM | 200 GB | 8 cores | 16 GB | Linux | $189 | Details |
Each VPS plan has 10 TB Bandwidth
Windows VPS Plans
| Plan Name | Space | vCPU | RAM | OS | Price | |
| --- | --- | --- | --- | --- | --- | --- |
| 4 GB RAM | 100 GB | 4 cores | 4 GB | Windows | $134 | Details |
| 8 GB RAM | 150 GB | 8 cores | 8 GB | Windows | $174 | Details |
| 16 GB RAM | 200 GB | 8 cores | 16 GB | Windows | $224 | Details |
Each VPS plan has 10 TB Bandwidth
*The pricing mentioned here is non-discounted. For the latest pricing concern LiquidWeb.Com's official website.
Hosting Addons
| | | |
| --- | --- | --- |
| Storage & Backup Add-Ons | Performance Add-Ons | Security & Compliance Add-Ons |
| Acronis Cyber Backups | CloudFlare CDN | Firewalls & VPN |
| Cloud Block Storage | Akamai CDN | Compliance Assistance |
| Cloud Object Storage | Load Balancers | Server Protection |
| Storage Area Network (SAN) | | Threat Stack Oversight Intrusion Detection System |
| Log Storage | | DDoS Attack Protection |
| | | Data Protection |
| | | Web Application Protection |
Liquid Web Customer Support
Liquid Web's support is only via phone chat and helpdesk support around the clock. The helpdesk and live chat is the best option for getting their support. For emergencies, you can call on their toll-free number for notifying the issues. Liquid Web also has a well-stocked knowledge base that's filled with technical help articles covering a wide range of topics.


Security
Liquid Web offers optimized and exclusive ServerSecure protection for fully managed Windows and Linux Servers. Additionally, Integrated Firewall comes with every Virtual Private Server that protects your managed VPS from malicious internet traffic. Standard DDoS Protection is also included in all VPS levels. 100GB Acronis Cyber Backups Included in all managed VPS plans that keep your hard work or important files safe or even your full VPS image in case any misconfiguration or disaster happens. You can restore your sites or settings at any time.
Performance
Liquid Web gives 10 TB of Gigabit Bandwidth in all VPS plans and it's good enough for monthly data transfer. Apart from this, Cloudflare CDN comes integrated with every managed VPS plan. That means you can use a worldwide network of servers to manage load and increase performance on your VPS.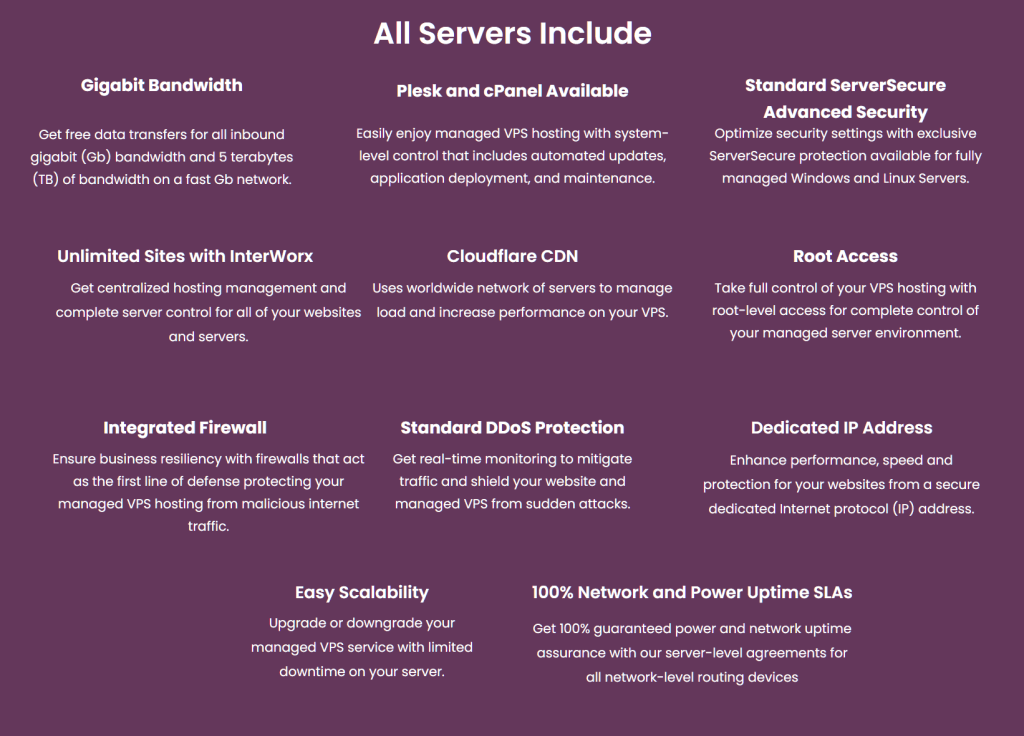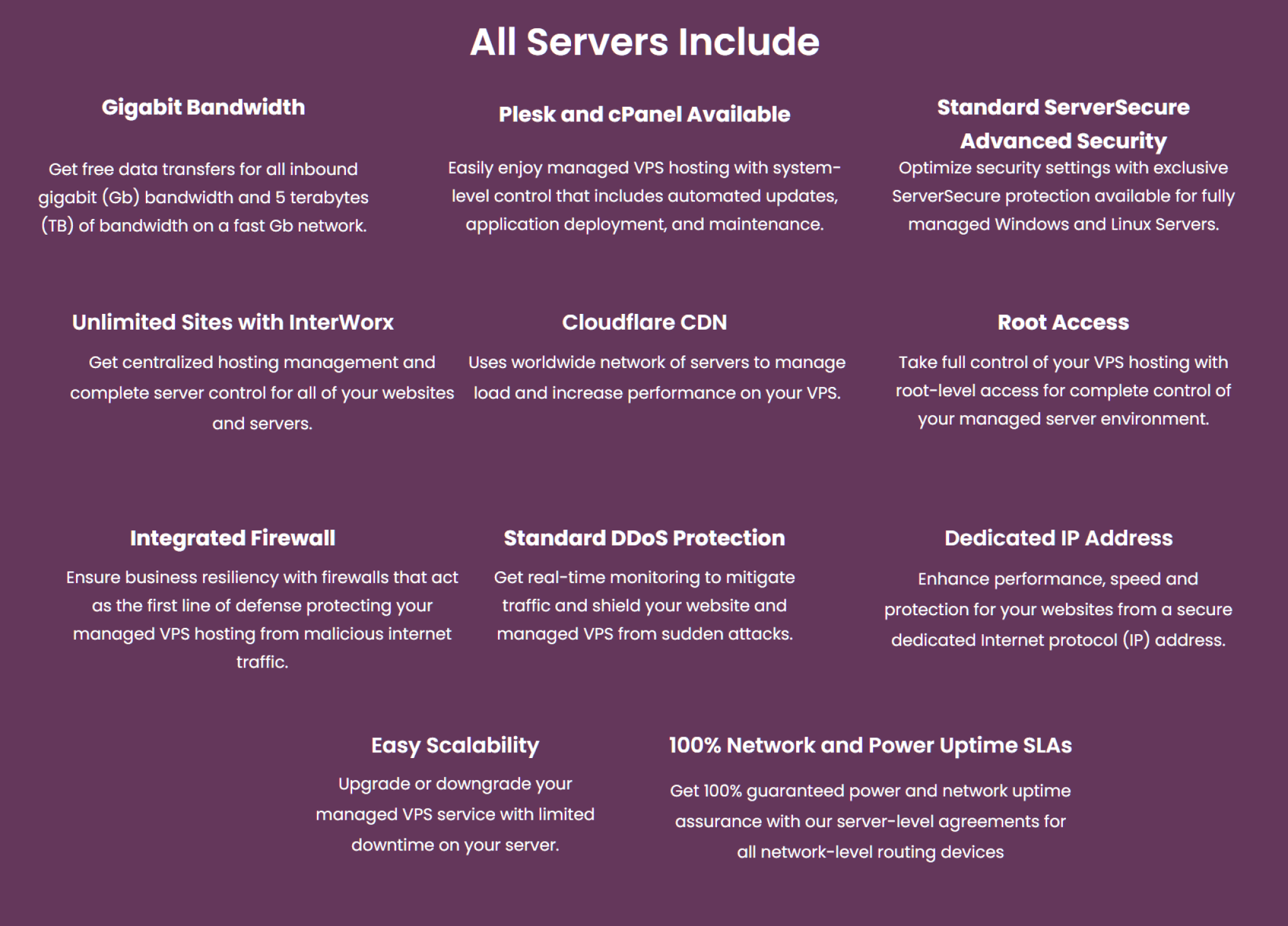 Ease of Use
The price for a VPS that you are paying gives you lots of satisfaction in terms of features and ease of use. Liquid Web offers you multiple choices for control panels like InterWorx, Plesk Web Pro, or cPanel Admin. You don't need to pay extra money for buying a control panel for your VPS. The control panel comes free within every VPS plan offered by Liquid Web. The best part is control panel comes preinstalled within the VPS plan. There is no headache in installing it.
The control panel InterWorx gives you the ability to host unlimited domains on your VPS. There is no domain bar with InterWorx. cPanel Admin allows 5 domain hosting and Plesk Web Pro allows up to 30 domain hosting on Liquid Web VPS.
Liquid Web Vs. Competitors
Liquid Web competes itself with Hostgator and Godaddy for VPS hosting. Hostgator VPS price starts at $79.95/mo while Godaddy VPS is priced at around $159.95/mo. And these competitors' prices are non-discount. Both Hostgator and Godaddy miss Windows VPS. Liquid Web VPS comes fully managed while Hostgator offers limited while Godaady charge $120/mo for managed VPS.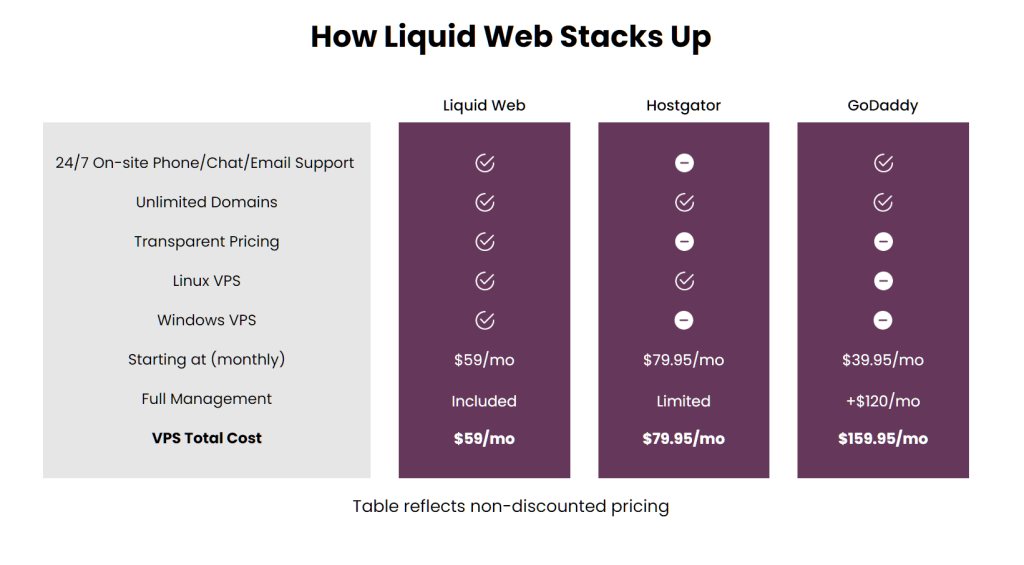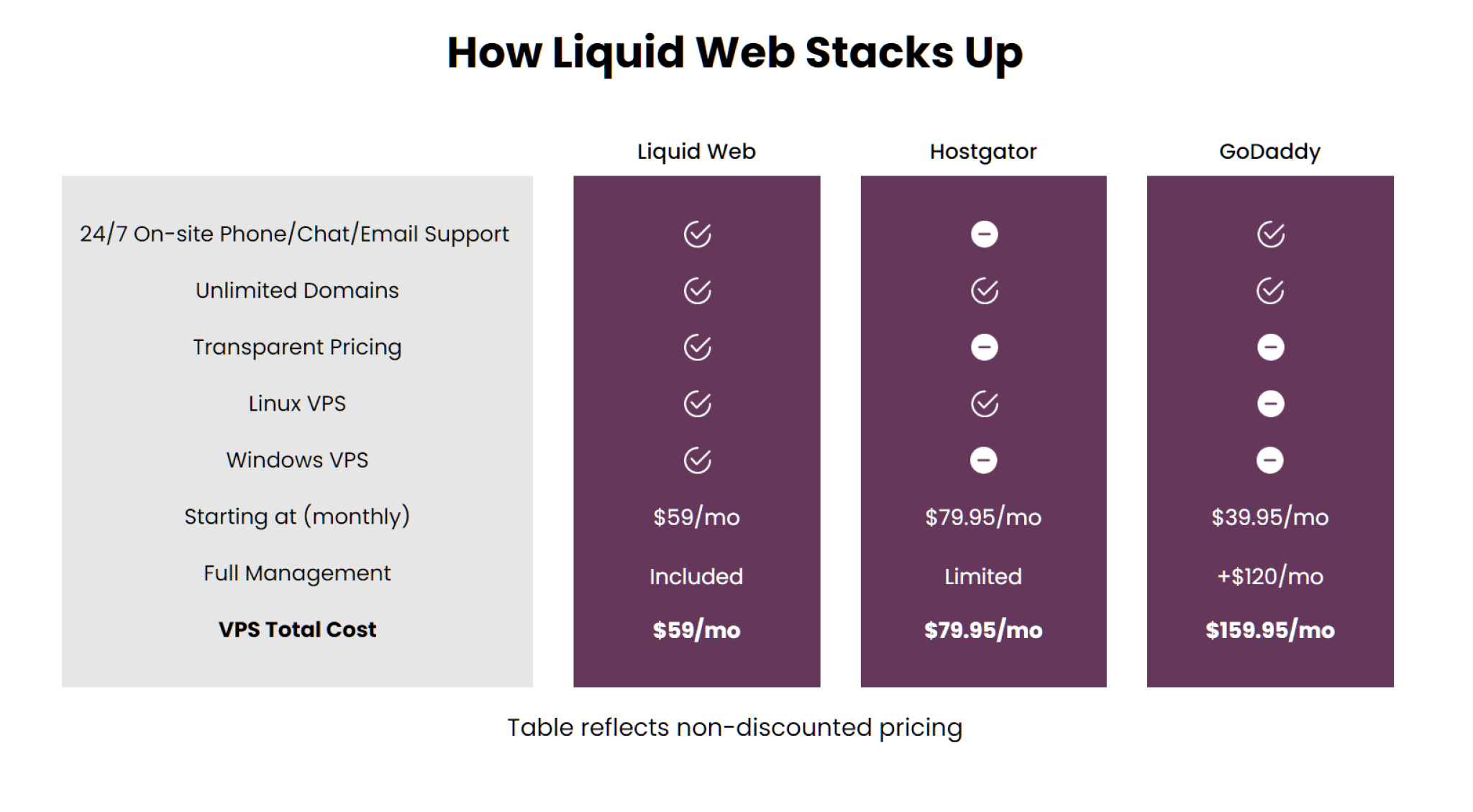 The Sumup
You can get a VPS easily for around $5 – $10 or less anywhere on the web. The downside of these VPS is that they comes unmanaged and without any control panel. The control panel makes it easy to run a website on a VPS and it does many configurations automatically. Having a paid control panel can manage or save your hard work. Liquid Web gives you a free control panel with its VPS plans.
Liquid Web VPS is just meant for running websites seriously. As it comes with a predefined operating system, Centos7 for Linux and Windows 2019 for Windows VPS. For developers, Liquid Web may disappoint you. As Liquid Web doesn't allow custom multiple operating systems installations.
If you think Liquid Web VPS is expensive and not affordable. No, it's not. You are not just getting a blank VPS but a complete VPS with a control panel and technical support of the Most Helpful Humans in Hosting. I suggest you buy it for a long time like 24 months and use the latest Liquid Web promotional codes to save your money. You can get a completely managed VPS at an affordable price.
Excellent!
Liquid Web VPS is a feature-rich virtual machine that offers you peace of mind. but it's not the cheapest option.
Disclosure
When you buy through affiliate links on our site, we may earn an affiliate commission, at no cost to you.